Alliums and grapes surprisingly have something in common: They can confound you. Grapes, for example, are fairly easy to identify. Which grape it is however, which species, is always the greater challenge. Alliums present the same problem. It's fairly easy to figure out if you have a "wild" garlic or onion but which one can be difficult to ascertain. Indeed, just whether it is a garlic or an onion can be difficult enough. (And as an aside many botanists consider the Hawthorns to be the most difficult species to identify.)
Our local wild garlic/onion is Allium canadense. The bottom part has an onion look and aroma, the cloves on top and the stem holding them smell like garlic. So which is it? A wild garlic or a wild onion? Meadow Garlic or Meadow Onion? And as one moves into other geographical areas looks can change significantly. Ramps come to mind or Hedge Garlic. Fortunately the entire group has a saving grace: If it looks like a garlic and smells like a garlic you can eat it. If it looks like an onion and smells like an onion you can eat it. But both elements must be present, looks like, smells like. This includes non-Alliums such as Society Garlic which is Tulbaghia violacea. Our local Alliums — which like damp, sunny spots, are reaching the top of their season. You can read about them here.
If you are a regular reader of this newsletter you know that Dandelions while a fine edible just do not like warm climates. They prefer the cooler summers of northern latitudes and more acidic soil — this state is a limestone plate. So they show up here in the winter and usually near acid-loving or acid-creating plants such as oaks and pines. They will also caress your blueberries if you are doing what you should and constantly amending their soil to be acidic. What we are seeing now as warmer weather sneaks in are False Dandelions, which are more climate tolerant.
In general terms there are four species known as False Dandelions (not counting species falsely called False Dandelion such as Crepis japonica.) There are at least three genera: Pyrrhopappus, Hypochoeris and Agoseris. Pyrrhopappus carolinianus is found in the southern eastern quarter of the United States. Hypochoeris radicata is found in most of North America except the high plains states. Hypochoeris glabra is some eastern states, some southern states, and some western states. Spotty. Agoseris aurantiaca is in the western U.S. and Canada and eastern Canada but not in between. Also note that Hypochoeris is also spelled Hypochaeris. In general terms False Dandelions are used like Dandelions though they do vary in flavor with H. radicata being quite bitter. The odd-one out is A. aurantiaca which has an orange-red blossom instead of yellow. You can read about them here.
Nearing its last gasp of the season is Goosegrass, Gallium aparine. This highly seasonal edible goes through its growth almost as fast or if not faster than chickweed. It is edible raw or cooked when young and is thought to be good for the lymph system. When it gets older Goosegrass becomes tough but its seeds have an an odd use. The species is in the coffee family and roasted Goosegrass seeds do have a coffee flavor, but no caffeine. However, if you were to add some Yaupon Holly leaves one just might get close to a Cup of Joe. You can read about Goosegrass here.
FORAGING CLASSES: Our foraging class last weekend in Jacksonville offered some surprises. Pellitory, often gone this time of year, was still to be found in shade. A greater surprise was a little bit of chickweed getting ready to seed. Paper mulberries are getting ready to fruit (as are Red Mulberries.) And there were at least four Chickasaw plums ripe enough to eat. They will increase in fruit over the next six weeks or so and are usually done by early June. We also noticed a little mustard, Bitter Cress. It can be found over many months but favors the spring time.
This week's foraging class in on a Saturday and in Port Charlotte. This is because I am participating in a charity bike ride Sunday in Venice. It's not a taxing ride, only about 50 miles. However, it is the only time of year I eat while riding — there are chocolate cookies — and I allow myself to have an annual beer at the end. Thus I can always remember the last time I had a beer. One of the things I am looking forward to in the Port Charlotte class is whether their Suriname Cherries are ripe. There is one tree locally that has fruited early so I am hopeful to find some at this class. One reason is there are two different species at this location, a dark red Surinam Cherry and a black variety, which is sweeter and less astringent. The other attractive part of the Port Charlotte class is the salt-tolerant species we find. Sea Blite is in season and grows there (if it hasn't been all picked already.)
Saturday, April 29th, Bayshore Live Oak Park, Bayshore Drive. Port Charlotte. 9 a.m. Meet at the parking lot at the intersection of Bayshore Road and Ganyard Street.
Saturday, May 6th, Blanchard Park, 10501 Jay Blanchard Trail, Orlando, FL 32817. 9 a.m. Meet east side of the tennis courts near the YMCA building.
Saturday, May 13th, Wickham Park: 2500 Parkway Drive, Melbourne, FL 32935-2335. 9 a.m. Meet at the "dog park" inside the park (turn right after entrance, go 1/4 mile, dog run on right, parking at run or on previous left.)
Saturday, May 20th, Dreher Park, 1200 Southern Blvd., West Palm Beach, 33405. We meet just north of the science center in the northern part of the park. 9 a.m.
Saturday, May 27th, Boulware Springs Park, 3420 SE 15th St.,  Gainesville, FL 32641. 9 a.m. Meet next to the spring house.
To read more about the foraging classes go here.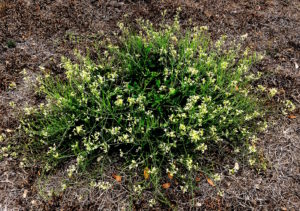 Want to identify a plant? Looking for a foraging reference? Do you have a UFO, an Unidentified Flowering Object you want identified? On the Green Deane Forum we chat about foraging all year. And it's not just about warm-weather plants or just North American flora. Many nations around the world share common weeds so there's a lot to talk about. There's also more than weeds. The reference section has information for foraging around the world. There are also articles on food preservation, and forgotten skills from making bows to fermenting food. One special section is "From the Frightening Mail Bag" where we learn from people's mistakes. You can join the forum by clicking on the button on the upper right hand side of this page.
Spring orders have started their annual  increase. All of Green Dane's videos available for free on You Tube. They do have ads on them so every time you watch a Green Deane video I get a quarter of one cent. Four views, one cent. Not exactly a large money-maker but it helps pays for this newsletter. If you want to see the videos without ads and some in slightly better quality you can order the DVD set. It is nine DVDs with 15 videos on each.  Many people want their own copy of the videos or they have a slow service and its easier to order then to watch them on-line. They make a good gift for that forager you know. Individual DVDs can also be ordered. You can order them by clicking on the button on the top right of this page or you can go here.
Why Forage? There's around 250,000 edible species including cultivated crops. Only about 150 are farmed on a large-scale basis. About a dozen of those make up 75% of the food the seven billion of us eat. The largest group of them are grass grains. If you add a local staple or two you have food if one or more of those twelve fail. To read more about finding caloric staples click here.
This is issue 254
If you would like to donate to Eat The Weeds please click here.