While it's only January we've been seeing early vines of the Creeping Cucumber on both coasts, from Tampa to Melbourne. It's too early to see any blossoms or fruit but in several locations protected vines that missed any frost  were up to a yard long. Once they start to fruit they will continue until the short days of winter or a cold spell. Locally the last average frost date is Valentine's Day and the last on record late April. Botanically Melothria pendula they are slightly tart jelly-bean size cukes. They're a great trail-side nibble and good in salads. Also called the Guadeloupe Cucumber they, unfortunately, do not pickle well. To read more about them go here. 
An often overlooked wild edible is Bulrush. This tall sedge gets second billing to the another common watery inhabitant, cattails. While there are several species of Bulrush locally the two one sees most often are Scirpus californicus and S. validus. Used like cattails, the easiest way to tell them apart is to look at the seed tufts location and color of the seeds which introduces an important point: The experts tell us there are no toxic sedge seeds thus if you have a sedge you have a source of edible seeds. On these species the seeds are small but are easy to harvest (if you have a boat or a canoe.) To read more about Bulrushes and to identify sedges in general go here. 
In nearly every class and daily on line I am asked if I can identify a plant if a picture is sent to me. I say I will try and also suggest the sender join the Green Deane Forum.  There's  a UFO page there, Unidentified Flowering Objects. On the forum we chat about foraging — and other topics — every day along with techniques to harvest and use the bounty you have found. And it's not just about Florida or the southeast. There are members from all around North America and the world. The link to join is on this page just to the right of this article. You do have to pick a screen name and the forum let members private message each other. There are only three rules: Keep it civil, keep it clean, and don't mention Wikipedia (which Green Deane has a significant dislike for.) Recent topics include Mystery Tree,  Gnarly Mushroom, Brain Tan, Vegetarian Nightmare, Linguist Overdrive, From the Frightening Mailbag, and Young Sow Thistle.
We're a little less than a month away  from the Florida Earthskills gathering in Hawthorn Florida, Feb 5-8. It's an opportunity to learn, share and experience sustainable living skills.  I have taught there for the last two years and there are virtually dozens of classes to sign up. Personally I am hoping to take a few mushroom classes. Other classes include wild medicine, wild foods, didgeridoo making and playing, buckskin sewing, fire making, yoga, insect study, cabbage palm basketry, bow making, bird songs, atlati throwing, permaculture, mushrooms and a whole lot more, several somethings for everyone. To learn more about this Florida Earthskills gathering and sign up go here.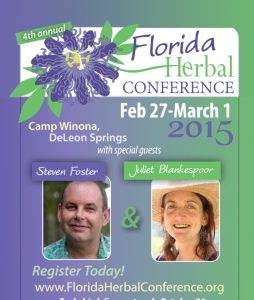 Later in February is the Florida Herbal Conference, Feb 27 to March 1st, organized by herbalist Emily Ruff. I've taught edible plants there for the last three years and will be there again this year. In fact I plan to spend a lot of time there. It's a must for all southern herbalists and well as those northern ones who want to escape the cold and study their craft in the dead of winter. It always has interesting speakers and great classes. While there is some cross over between Earthskills and Herbalism the conferences are sufficiently different to justify attending both. For more information and to register go here.
Foraging Classes: Saturday, January 17th, Mead Garden: 1500 S. Denning Dr., Winter Park, FL 32789. 9 a.m.; Sunday, January 18th, Spruce Creek Park, 6250 Ridgewood Ave. Port Orange, 32127, 9 a.m.  Saturday, January 24th, Red Bug Slough Preserve, 5200 Beneva Road, Sarasota, FL, 34233, 9 a.m.; Sunday, January 25th, Bayshore Live Oak Park, 23000 Bayshore Rd., Port Charlotte, FL 33980, 9 a.m., meet at the parking lot at the intersection of Bayshore Road and Ganyard Street. For more information or to sign up for a class go here.
One of the odd things you can do in Florida is see plants that don't exist. They are species the state has not collected samples of for herbarium purposes thus they don't officially exist. One of the non-existent plants you might be seeing this time of year is Wild Pineapple, Bromelia pinguin. I discovered it Christmas Day some six years ago and look forward to its brilliant blossoming and yellow fruit. I have since found it in several location although it is officially not anywhere. And be forewarned: Should you find this plant that does not exist it is is well-armed with spines that curve in both directions so it gets you coming and going. Also it's edibility varies person to person so caution is advised as well. To read more about the Wild Pineapple go here.  
Veterinarians have issued a warning about a plant that is making horses sick locally, Creeping Indigo, Indigofera spicata. Cold weather causes this pea relative to blossom pink, making it a little easier to see. Unfortunately it is a plant favored by horses with at least one dying and others sickened.  (This highlights that relying on instinctual means to avoid toxic plants is not too reliable for animals or man.) As with many toxic and invasive species Creeping Indigo was intentionally brought to Florida in 1925. The University of Florida imported it from Sri Lanka (then Ceylon) for agricultural experiments. When it killed one of two rabbits the testing stopped but the weed stayed (the second rabbit recovered after the Creeping Indigo was removed from its diet.)  Within eight years Creeping Indigo was raising concerns about poisoning farm animals.
Besides horses, it is also toxic to cattle, sheep, goats, guinea pigs, rabbits, and birds. Pigs won't eat it which calls into question reports that it does not bother pigs. Someone might be assuming that since pigs aren't being reported sick from eating Creeping Indigo they aren't bothered  by it whereas it could equally be that because pigs avoid it there are no reports porcine poisoning. The prime toxin in Indigofera spicata is indospicine which "inhibits the incorporation of arginine and other amino acids in liver cells result in liver insufficiency."
For those in my Sunday class in West Palm Beach on January 11th the unknown powder puffy shrub we saw is probably a  Calliandra haematocephala, a native of Malaysia. It's a small tree that was in the pea family but has been moved to the Mimosa group. I had never seen it blossom before and as far as I can tell, is not edible in any way. It's just pretty, which has its own value. The name is slightly interesting in that it is all living Greek mangled by Dead Latin. Calliandra is a combination of Kallos (beautiful) and Andros (man) but is to mean — when poetically translated — "pretty stamen" (the male part of the flower which creates the powder puff.) Haematocephala means "blood head" or in this case "red head." Thus pretty stamen red head. You could even stretch it to "pretty redheaded man."
Lastly, a new WHAT DO YOU SEE? #16. There are at least three different edible species in the photo. Can you name them?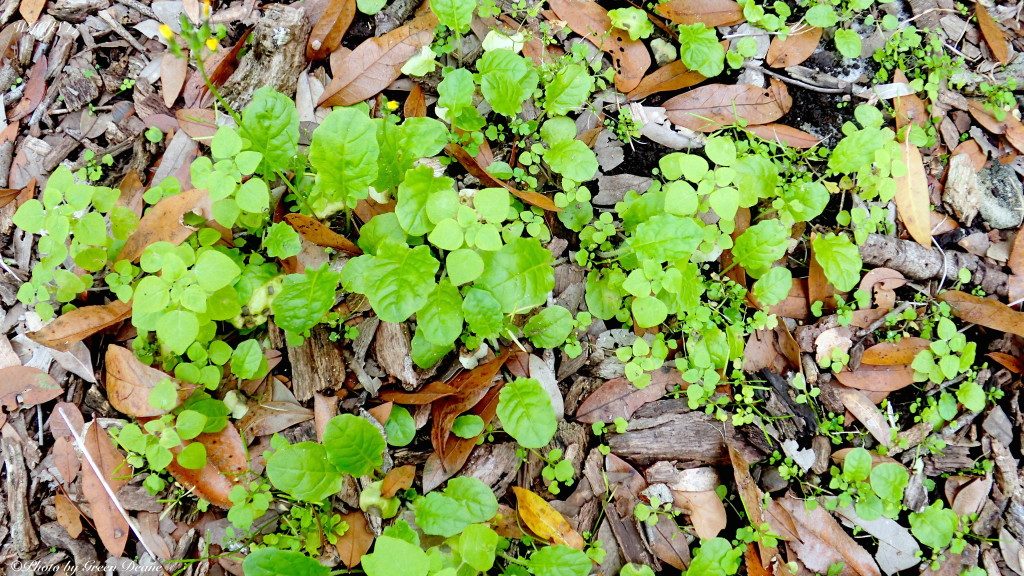 If you would like to donate to Eat The Weeds please click here