Do you know why the Sweet Gum tree is called that? Because while it tastes mighty bad it is not as bad as the other "gum" trees, one of which is in season now, the Black Gum.
You have to like sour and bitter to like the Black Gum tree.  If you don't the fruit is offensive and elicits comments that cannot be printed in wholesome publications. This did not stop settlers from adding a lot of sugar to the fruit and making jelly out of it. We saw a fruiting specimen this weekend in Jacksonville. The tree looks a bit ratty this time of year but fall-red leaves can make it almost attractive.  To read more about the Black Gum and its relatives click here.
The smallest roundup ever happened during my last class Sunday in Winter Park. At the end of my classes we always relax and chat. I happened to mention that the invasive, aggressive Cuban anoles taste like bacon (when deep fried.)  That lead to how to catch them and I told of one student who would make a noose out of panic grass and lasso them. One of the people at the class Sunday agreed that was how to do and fashioned a noose for other students to use. Three went searching and one actually managed to catch an anole with a grass loop. Truth is stranger than fiction. To read about cooking them go here.   You also might want to read: Ignite of the Iguana.
As for upcoming classes  I am attending a grass seminar — no jokes please — on Friday then spending two days in West Palm Beach with an open class on Saturday and a private class Sunday for chefs. I do expect a good meal out of it. The following weekend I will be in Wickham Park on the 19th and Port Orange the 20th then Red Bug Slough in Sarasota on Nov. 2nd. To see the class schedule click here.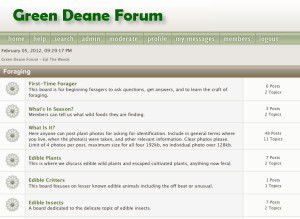 Foraging seasons may come and go but we chat about foraging all the time on the Green Deane Forum. Whether it is how to cure a Black walnut to is this a "Creeping Cucumber' we have the answers. There is also a UFO page (Unidentified Flowering Objects) where you can post pictures of plants you can't figure out. We're pretty good at identifying them especially if they are an edible. There is also the non-public "Green Room" where we chat about non-foraging topics and the XXchange, a page for the ladies. To visit the Green Deane Forum click on the button above "categories" on the right hand side of this page.
My mystery mushroom this past week was the Chestnut Bolete, or Gyroporus castaneus. As Boletes go it is a small one, two or three inches high, not as wide. It's listed as a choice edible but often is found only in small amounts. As it is a small mushroom guidebook usually take a close-up picture making it look far larger than it really is in real life. The problem now is what to call this when I use the botanical name. Dead Latin botanist say "gye-ROPE-poor-us." The name is from two Greek words that mean "round pores." There is no "eye" sound in Greek thus they never would say  "gye-ROPE-poor-us."  They say: "yee-ROPE-poor-us," or, "yee-rope-POOR-us." Castaneus is "cass-TAN-ee-us." The Boletes are a user-friendly group to study. There are no deadly ones or ones that cause lasting organ damage should one err. Some can make you quite ill but you will live (unless your health is already compromised some way.) This treatment here is not enough to identify the Chestnut Bolete. Study with someone in person and never eat any mushroom without first identifying it absolutely first. Also, two good rules to remember is never eat little brown mushrooms, and never eat a white mushroom with white gills and white spores. Never.
A reminder the Florida Herbal Conference 2014 will be held in Deland again this coming February. Joanna Helms, RH (AHG), a 6th generation Floridian, will be among the teachers. She has been in clinical herbal practice for 16 years, and is the founder of Mama Jo's Sunshine Herbals in Indian Harbour Beach, Florida. And again this year there is an early bird special for those who sign up before Oct. 31 and use the code EATTHEWEEDS. For the third year in a row I will be leading weed walks at the herbal conference, a challenge in winter on dry ground. The walks are usually first thing in the morning when the air is cool and camp fires warm. Although it is the Florida Herbal Conference it draws teachers and students from all over North America. And as mentioned above you get a discount because you read this newsletter.
Even though my foraging videos are for free on the internet some foragers like to have their own copy. My nine DVDs have 15 videos each, from 01 to 135, and come in nine cases each with a picture of yours truly on it. In the process of moving the videos to DVS some of them were enhanced slightly from the version on the Internet. In a few months I hope to have volume 10 available as well. I print and compile the sets myself so if you have any issues I handle it personally. There are no middle men. To learn more about them or to order the DVS click here.
There will be no newsletter on October 29th as this month has five Tuesdays and Green Deane is going take that time off (and recover from a Greek festival the weekend before.)
Some seeds remain viable for a very long time. One that comes to mind and grows locally is the American Lotus. Its seeds can be sprouted after 400 years. Some lotus seeds have been coaxed into life after more than 1,000 years. But now a tree that went extinct around 500 AD is now some eight-years old being raised from seeds over 2,000 years old (and this after sitting a college archaeology department for some 45 years.) It's a date palm and plans are being made to raise some more from the old seeds. To read the entire story go here.