Do you know why the Sweet Gum tree is called "sweet?" Because it's the least foul of all the "gum" trees. None have a great flavor regardless of what parts you might consume, be it the fruit or congealed sap. The Sweet Gum is not sweet. It's just not as bad as the rest. And you can prove it yourself  by trying some Black Gum fruit now in season.
Also known as Black Tupelo, the fruit is sour and bitter, intensely so. I've only met one person who likes them right off the tree. Personally I think the fruit rightly reminds us of how desperately hungry people had to have been in the past. To get around the taste — which has been compared to really bad manure — folks cooked it and added huge amounts of sugar.  One good identification characteristic of the Black Gum fruit is the vertical striations on the seed. You can read about the Black Gum here.  The Sweet Gum is here.
Cocoplums might be going out of season but Seagrapes are coming in. This week in Port Charlotte we got to taste a few, from the tree and off the ground. Sometimes the best fruits are the ones you have to fight the ants for. The only problem with Seagrapes off the ground — if it is a problem — is they can ferment a little and taste a bit zippy, wine-ish. In central Florida Seagrapes are at the northern end of their range. They fair a bit better on the coast but are usually no more than eight or 10 feet high. Further south they attain tree status and near the equator they are huge trees. (Did you know that tree that grow near the equator have no growth rings because they don't have seasons as in the northern latitudes.) Seagrapes are garnet red color when ripe, and sweet. People mistakenly make them into jelly. It's a mistake because the jelly tastes so much like apple jelly the Seagrape identity is lost. It's best to just eat them out of hand. To read more about the Seagrape go here.
Doveweed, Murdannia nudiflora, might be the smallest non-floating edible plant in the United States. Barely known, easily overlooked, yet very invasive. It pays to be small. For some young Doveweed is prime for soups, others view it as famine food. I can understand that. It's closely related to a genus that gives me an upset stomach, the Commelinas (Dayflowers.)  I use only Doveweed blossoms in my salad. To anyone used to finding Dayflowers the Doveweed will look familiar but only a few inches tall. It also has a lot of common names around the world including "Micky Mouse." To read more about the Doveweed, go here.
It's truly irritating to read someone write "never forage within 120 feet of a road." It's a non-thinking statement whereas foraging is a thinking activity. I am not aware of any formal research on the road topic so the distance is arbitrary to start with, and who carries a long measuring tape with them? More to the point it misses one of the most important points about foraging and the environment, assessing the lay of the land.  Which way might the rain or runoff flow? How about prevailing winds? Is there manure pile nearby, or heavily used mega- farm land? Is it a dog park? Am I uphill a little from a country dirt road, or downhill and downwind from a busy interstate? The 120-foot mantra is rather meaningless. What's more important is looking around. Foraging makes pollution personal. So take it personally. Is the flower bed above the parking lot and watered with city water? Does the nearby parking lot drain into the pond you are eying? Assessing what is in front of you is far more important than throw-away rules.
Upcoming Foraging Classes:
Sunday, Nov. 8th, John Chestnut County Park: 2200 East Lake Road, Palm Harbor, FL 34685, 9 a.m.
Sunday, Nov. 15, Mead Garden,1500 S. Denning Dr., Winter Park, FL 32789, 9 a.m.
Sunday, Nov. 22nd, Red Bug Slough Preserve, 5200 Beneva Road, Sarasota, FL, 34233, 9 a.m
Sunday, Nov. 29th, Florida State College, south campus, 11901 Beach Blvd., Jacksonville, 32246, 9 a.m.
Sunday, Dec. 13, Mead Garden,1500 S. Denning Dr., Winter Park, FL 32789, 9 a.m.
Sunday, Dec. 20th, Dreher Park, 1200 Southern Blvd., West Palm Beach, 33405, 9 a.m.
Sunday, January 17th, 2016, Sunday, Nov. 15, Mead Garden,1500 S. Denning Dr., Winter Park, FL 32789, 9 a.m.
To learn more about the classes go here. 
Want to identify a plant? Perhaps you're looking for a foraging reference? You might have a UFO, an Unidentified Flowering Object, you want identified. On the Green Deane Forum we — including Green Deane and others from around the world — chat about foraging all year. And it's not just about warm-weather plants or just North American flora. Many nations share common weeds so there's a lot to talk about, such as the one to the left. There's also more than weeds. The reference section has information for foraging around the world. There are also articles on food preservation, and forgotten skills from making bows to fermenting food. Recent topics include: Wild Mustard? Heavy Metals. Oriental Persimmons. What is it? Pine Cough Drops and Needles, Skullcap, Malodorous Plant? Another NJ Tree, Maypop? Roadside Plant, Unknown in Sudan, Please Help Identify, Preserving Prickly Pear Bounty, Bearberry, Shrub? and Zanthoxylum Americanum or something else? You can join the forum by clicking on the button on the upper right hand side of this page.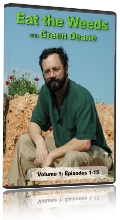 All of Green Deane's videos are available for free on You Tube. They do have ads on them so every time you watch a Green Deane video I get a quarter of one cent. Four views, one cent. Not exactly a large money-maker but it helps pays for the newsletter. If you want to see the videos without ads and some in slightly better quality you can order the DVD set. It is nine DVDs with 15 videos on each. Many people want their own copy of the videos or they have a slow service and its easier to order then to watch them on-line. They make a good Christmas or birthday gift. Individual videos can also be ordered. You can order them by clicking on the button on the top right of this page or you can go here. 
This is weekly newsletter 181. 
To donate to the Green Deane Newsletter click here.