Through spring is not upon us it's time to start looking for Smilax shoots. In the woods I see mostly last year plants with missing tips (deer love smilax, too.) But, there are little green signs of things to come. (I would have punned little green vines of things to come but oddly Smilax is not a vine but rather a "climbing shrub.") Spring is the best time to collect Smilax shoots. They tend to be sweet then. Smilax collected in the heat of summer or in the fall can sometimes be bitter. Many foragers consider spring Smilax to be the very best of our wild foods. Edible raw, I like them steamed then tossed with soy sauce and olive oil or butter. I have not heard of a non-edible Smilax though I don't eat red-berries smilax because they are uncommon locally (and it has to have red berries for a reason even if I don't know it.) There is a different red-berried Smilax species on Crete however that is eaten. As the season progresses the easiest place collect Smilax tips (and young leaves) is bike trails. The vines …. ah… climbing shrubs… lean conveniently over the fence, and you can get successive harvests. To read more about Smilax go here. By the way the photographer of the Smilax photo above — Dewayne Allday — is a member of the Green Deane Forum and has his own foraging site called The Dewberry Blog.
In Jacksonville two Saturdays ago Smilax was just starting to sprout. Three hundred miles south in West Palm Beach this past Sunday they were more than big enough to pick, around four to six inches. They can get twice as long and more than a third of an inch through. Crisp, succulent, sweet. It's good for us they're not harvested for market because Smilax would sell well and there would none for us foragers. Besides the usual assortment of greens we also managed to find a couple of out-of-season cocoplums and out-of-season Simpson Stopper berries. The Hairy Cow Pea was producing well. Bitter gourd, covered in several recent newsletters, had only leaves, no fruit. The Dove Plum, or Pigeon Plum, was in fruit but the fruit should be dried first to taste its best. We also saw where the pandamus grass is staring to put on a seed head for this year. That's always a showy fall edible.
I don't recall seeing any Smilax in Port Charlotte on Saturday. But there was plenty of wild edibles to see. As is often the case at that location digging up a wild yam root was the big plant of the day. The yams have died back for their "winter" rest but their location is easy to spot because of their distinctive air bulbils. Unfortunately the vine this time of year often dries and breaks away from the soil making the location of a root a bit of a hunt, but not a chore. We also managed to find a few sweet ground cherries. They are stretching the season though if the weather stays warm one can find mature berries and new flowers at the same time. Remember, if the ground cherries are bitter don't eat them. Sea purslane was tasty and beach carpet (silverhead) was still producing as it was  two months ago. Sea Bite was not up yet but it's only a matter of weeks. I expect to see it on my next class there in March. Also spied was a fruiting Pond Apple. Not a fruit eaten raw… not happily at least … it is cooked then consumed. The seeds are toxic. Do not handle the seeds then touch your eyes. They can make you blind. 'Tis a fruit to be careful with.
Among the non-edibles we saw was the native gray nicker bean, a well-armed, native climbing shrub that likes to grow near brackish water. Incidentally there is a yellow nicker bean as well. A chemical called Bonducin is extracted from the seeds or bark and is used to treat fever (hence the nickname "poor man's quinine.") Crushed seeds are used to make an infusion to treat hemorrhoids, kidney issues, venereal disease, high blood pressure and diabetes. The seeds suppress urinary sugar but do not affect blood sugar. Roasted seeds have been used as a diuretic to treat edema particularly of the heart or kidneys. Young leaves have been eaten for menstrual issues, to expel worms, and as a poultice to treat toothaches. The crushed roasted seeds have been used to make a coffee substitute. Unroasted seeds can be very toxic. It's a medicinal plant, not an edible. Consult an herbalist should you have any thoughts about the plant beyond looking at it. Personally I do not consider it an edible in any way.
Are there some foods you eat every day? Coffee, tea, milk, sugar, salt, pepper, cucumbers, oranges, bread, a banana, rice, beans, wine, olive oil, eggs, the same smoothie, Bidens alba? A thousand years ago did your ancestors eat the same food every day? Certainly before the agricultural revolution they did not. Should you? The locavore movement — consuming locally grown food — has an echo of our past in it. That echo is seasonal eating. Think of the egg. It was a seasonal food only. A treat worth climbing trees or cliffs for. One reason why my family always had a garden was to have fresh vegetables in season. We also foraged. We picked checkerberries as soon as the snow melted, strawberries in the spring, dandelions and mustard in summer, then blueberries followed by apples and grapes in the fall. We ate seasonally. Now you can eat blueberries every day of the year, or cucumbers, or potatoes, bread, rice and beans, bananas… Should we pay more attention to seasonal eating? Is it our nature to be seasonal eaters and is there something wrong eating out of season? To explore the issue click here.
I am not sure it was with interest or amusement when I read about the Olympic Knotweed Working Group in Port Hadlock, Washington state. They have a knotweed problem. That reminded me of the recent Olympic stadium virtually half way around the world in London. It was a site of knotweed infestation and under British law the soil had to be removed and dealt with severely. That added 70 million pounds to the cost of building that stadium. That $111 million dollars. Knotweed can break up concrete so it really had to be removed completely where the stadium was built.  In Washington state there's an on-going study of how various herbicides and their application can kill of this edible weed. They are using kiddie wading pools to keep the edible from being spreadable. It's fairly common in cooler climates and I saw a lot of it in North Carolina last August. If you want to know more about knotweed click here.
Historical Friction: A couple in the Orlando enclave of College Park have changed their small front lawn into a tidy garden. That is against city code. You can imagine the rest… interfering authorities, threats of fines, reporters trampling on food… The front garden owners, Jason and Jennifer Helvengston, have launched a project "Plant a Seed, Change the Law," in protest of the city ordinance. The Helvengstons say the city ordinance violates their constitutional right to peacefully use their property to grow their own food (and harvest what edible weeds that grow as well.)
"The greatest freedom you can give someone is the freedom to know they will not go hungry," said Jason Helvengston. "Our Patriot Garden pays for all of its costs in healthy food and lifestyle while having the lowest possible carbon footprint. It supplies valuable food while being attractive. I really do not understand why there is even a discussion. They will take our house before they take our Patriot Garden."
The Helvengstons are not the first to grow a garden and run into the wall of a city hall. One reads about them regularly now. The new is clearly slamming into the old. Well-meaning people 50 to 60 years ago drafted codes to get rid of farms and barns downtown. A century before that farms and barns downtown were totally expected and acceptable. The livery stable comes to mind: A parking garage for horses. More so, for the last 50 to 60 years lawns have had extraordinary legal protection. From the first Levittown in the 1950s to the most recent housing development lawns have had a cultivation monopoly. But there are different concerns now.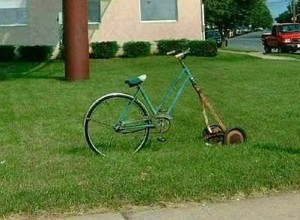 Lawn grass uses the majority of drinkable water in urban settings. That is not sustainable. They are the main source of water table pollution from the chemicals heaped upon them. Lawn owners use some ten times more chemicals in comparison than farmers. And millions of gallons of gasoline and oil are spilled from machines used to keep lawns… that is certainly not good for the environment. Lawns are a waste of space and resources. As I say in this editorial for Earthbeat radio, lawns are not green. Perhaps in the future if you want a lawn you will have to pay a lawn tax to compensate for the damage lawns cause. On the other side of the ordinance you have people whose livelihood depends on enforcing now out-dated or certainly inflexible laws. They are usually good people exercising usually bad government. And they can't stop until the laws are changed. Laws aren't changed until attitudes and elected officials are changed hence the Helvengstons' project. There is not change without action. And I would add the problems exists with foraging for wild food. One state bureaucracy wants to get rid of invasive plants and another state bureaucracy will punish you if your take the invasive plants to eat. It's an institutional insanity only government can create and defend.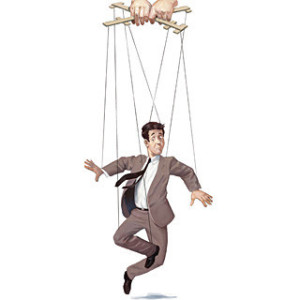 Behind all of this — be it a front garden or edible weeds — is the desire of people to control other people's lives. We get more rules and more regulations and more laws because this group wants to tell that group what to do, or more often what they cannot do. America was founded on not telling others what to do, not controlling the lives of others. It was founded on the right to be left alone and in peace. The problem extends far beyond a small garden in College Park.  Progress is not so much new laws, rules or regulations as it is reducing the desire to control the lives of others. Indeed, perhaps progress is the wrong word. Maybe what we need is some regression, reduce the presence of government in our lives, and reduce the desire to control other peoples' lives. However rolling back rules and regulations requires a concommitant increase in personal responsibility. To echo our second president John Adams: If people are good and do good rules aren't necessary.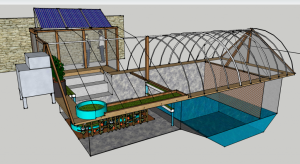 Do you remember "granny" from the Beverly Hillbillies and her 'cement pond?' As a pool owner of some 13 years I have come to view that hole in my back yard as a living money pit that is forever hungry. I have often pondered turning it into a fish pond — be damned the homeowners' association. Here's a group that's doing it, GardenPool.org. They built a quonset hut-like  roof over the pool, added a chicken coop, some shelves, water, fish and everything feeds and cleans everything else. Wonderful. Best of all the space produces food rather than destroying bank accounts.  I can honestly tell you I have fallen in my pool more times than I have gone swimming in it. Pools look pretty but here in Florida keeping one blue instead of green is a full-time at-home job. Cats you can leave for a few days if you put out enough food and water. Not pools. They need daily if not hourly attention or they get expensively sick. Gonna give this pool garden some close examination.
Upcoming classes:  My schedule will be a bit sporadic for the month of February as I am teaching at two conferences, Earthskills in north Florida this weekend, and the herbal conference in mid-February.  Outside of the conferences my own class schedule for February is:
Saturday, February 2nd, Boulware Springs Park, 7902 S. E. 15th St.,  Gainesville, FL, 32601, 10 a.m.
Saturday, February 9th, Highwoods Preserve, 8401 New Tampa Blvd., Tampa FL, 33647., 9 a.m.
Sunday, February 10th, Mead Garden, 1500 S. Denning Dr., Winter Park, FL 32789. 9 a.m.
Saturday, Feb. 16th, Lake Woodruff National Wildlife Refuge, 2045 Mud Lake Road, DeLeon Springs, FL . 32706, 10 a.m.
Sunday, February 24th, Florida State College, south campus, 11901 Beach Blvd., Jacksonville, 32246.  9 a.m.
Note the starting times vary. For more information on my February classes go to my main website and click on classes.
And don't forget the The Florida Herbal Conference is just three weeks away, still plenty of time to sign up. Held in Deleon Springs February 15-17 it's sure to be fun.  For more information go to: Florida Herbal Conference.
To donate to the Green Deane Newsletter click here.