NEW SMYRNA BEACH: Christmas Day found me on the coast just south of Daytona Beach. It's an area I have been visiting since the '80's when I regularly rented a beach house there. Living on the beach for several days at a time at different times of the year let's you learn what wild edibles are there and where to find them.  My holiday present to myself was a visit to this old stomping grounds.
What better find for the Yule Tide season than Christmasberry. While there are many "Christmasberries" this one is in the Goji group. An Asian Goji is much touted for its healthy fruit. Our local "Goji"  is  shrub that favors brackish water areas such as Florida's inland coastal waterway. The plant itself does not resemble most Nightshades but the blossoms do. These berries were found at Turtle Mound, which is an ancient trash heap and tourist trap. I usually find Christmasberries later in the spring but these shrubs were on the west side of the mound where they get full afternoon sun in a protected environment. They were also at water's edge. To read more about the Christmasberry go here.
Another tasty find was Natal Plums. In fact, it was at the beach house some 30 years ago where I first saw Natal Plums. They were part of the houses' landscaping and a good choice. The two-story house was right on the dunes (and since removed by the park service after the 50-year lease-back contract expired.) Natal Plums are not really plums but resemble them somewhat. The ripe fruit is sweet and slightly tart with a sticky latex. There are commercial varieties. Once established they are wind, salt and drought tolerant. They also have double sets of thorns so they also make a protective hedge. I've seen them in southern climates from Daytona Beach to San Diego. You can read more about them here.
Unlike the red fruit above the berries to the right are toxic. They will make you sick so we do not eat them. However, we can make the leaves into a caffeinated tea. No species in North America has more caffeine than Ilex vomitoria, aka Yaupon Holly. The tea also contains a good serving of anti-oxidants as well. In fact one company in Daytona Beach — Yaupon Asi Tea — sells the tea and is in competition with Yerba Marte, but at a much lower price. It's a small company that will no doubt get larger. Earlier this year its brand could be found in 80 specialty grocery stores including Whole Foods, Lucky's Market and Earth Fare stores. If you collect your own leaves roasting them in a slow oven or steaming preserves the most caffeine. To read more about the Yaupon Holly go here.
The presence of an ocean moderates temperatures so bananas can live to two years old and fruit. You can eat the purple blossom, the unripe and ripe fruit, and the inner pith of the stalk. They way you harvest bananas is to keep an eye on them. When one begins to turn from green to yellow you cut the entire branch off (called a hand) and take it inside the house. I used to hang them from the ceiling by a plant hanger. They will ripen slowly inside from one end to the other. That's way you protect them from rotting and insects and you get most of the bananas for yourself. Whether the world will run out of bananas is difficult to tell. They are mostly all clones and are being attacked by a similar  "Panama" fusarium disease as in the 1950's. The variety of banana we eat today — Cavendish — is different and less tasty than the commercial one when I was a kid, which was the Gros Michel aka the "Big Mike."  Now a new fusarium disease threatens to wipe out the "Cavendish."  To read more about bananas click here.
These strange seed pods are not edible. In fact nothing about the nicker bean is edible. But it does have some medicinal qualities. I've included it because not only does it grow in the brackish water (near Turtle Mound) but when people see it they want to know what it is thus it is the subject of a lot of email. If I remember correctly there are two different species and they are native to Florida. The seed pods and gray seeds are used in flower arrangements. A quinine- like drug is derived from the plant. Like the Smilax it is also classified as a "climbing shrub." I have struggled for years to exactly understand what a "climbing shrub" is. It looks more like a vine but is not a vine or more specifically a liana which is a long woody vine. The difference between a shrub and a tree is height and number of main trunks (tree one, shrubs many.) So it is woody, and has many trunks… that's still doesn't help much. To read more about the Nicker bean go here.
Locally Ground Cherries fruit at least twice a year, and the seasons can be long or short depending on the weather.  As you can see this one is in blossom on Christmas Day. The blossoms can be lemon yellow or lemon yellow with a ruby throat or just the hint of a ruby throat. They will develop into a husk with a green fruit inside. The fruit eventually turns yellow then golden and sweet. They can be eaten out of hand or made into pies and jellies and the like.  But you should always try one first and wait about a minute to tell if there is any latent bitterness. A little is okay. A lot means try cooking them first. If still bitter we don't eat them. To read more about the Ground Cherries go here.
A visit to the beach would not be complete without one of the prime dune builders, Sea Purslane. Besides edible raw it can be boiled, broiled and fried.  I like young and tender branches grilled for a few minutes. Put them on when everything else is done. Five minutes later they'll taste great. The way they build dunes is by slowing down the wind. When the plant slows the wind the wind drops the sand it's carrying. That builds and the plant just grows up with the dune. While edible all year I think they are best in the cooler months. To read more about Sea Purslane click here.
This wispy plant on the left is one of my favorites. If I could nominate any wild plant to become a commercial crop this would be it: Sea Blite. While one might not think so it is in the Goosefoot family and related to Lambs Quarters. It's seasonal and will be growing for the next three or four months. Very mild in flavor, slightly salty, wonderful texture, I eat a lot of it through the season. Again, like most of the plants above, it tolerates brackish water and is usually found along intercostal water ways. It's not a plant usually found on the beach. Edible raw or cooked, I like to stuff a fish with it then roasting the fish. You can read more about Sea Blite here.
One of the temporarily more colorful shrubs of the coastal region is the Coral Bean. For a few months it sports these long red blossoms to attract butterflies and humming birds. The blossoms themselves are edible raw or cooked but are usually cooked. Interestingly the beans these blossoms make are toxic so we do not eat the beans, only the blossom. The distinctive young leaves are also edible cooked but the leaves are not a wild food  one seeks out a second time. When you cook the blossoms — usually by boiling — they turn green. The boiled blossoms are traditionally mixed with scrambled eggs. I don't know why but that is comfort food down through Central America. To read more about the Coral Berry aka Cherokee Bean, go here.
No report from the beach would be complete without a mentioning of seaweed. If the water is not polluted nearly all seaweed is edible. There are a couple in North American waters, however, that are not. One in northern waters has sulfuric acid and a blue-green one in southern waters is linked to the disease Ciguatera. The main problem with all the seaweeds that are edible is that they don't taste that good. Some, like sea lettuce, taste best fresh and raw. Others, like Sargassum, are much better dried.  Seaweed did not evolve with mammal palates in mind so taste was low on the plant's list of important things. Seaweeds that are anchored should be harvested when anchored. If they are floating around they are probably degrading. However some seaweed is free-floating and they should be harvested while free floating, not on the shore, or at least not on the shore for long. I think I have five seaweeds on my main site. You can read about one of them here.
Upcoming foraging classes:
Sunday, January 3rd,Bayshore Live Oak Park, 2200 East Lake Road, Port Charlotte, FL. 9 a.m.
Sunday, January 10th, Spruce Creek Park, 6250 Ridgewood Ave. Port Orange, FL. 9 a.m.
Sunday, January 17th, 2016, Sunday, Nov. 15, Mead Garden, 1500 S. Denning Dr., Winter Park, FL, 9 a.m.
Sunday, Jan. 24th, George LeStrange Preserve, 4911 Ralls Road, Fort Pierce, FL, 9 a.m.
Sunday, Jan. 31st, Jervey Gantt Recreation Complex, 2390 SE 36th Ave., Ocala, FL, 9 a.m.
Sunday, Feb. 7th, Red Bug Slough Preserve, 5200 Beneva Road, Sarasota, FL, 9 a.m.
Sunday, Feb. 14, Mead Garden,1500 S. Denning Dr., Winter Park, FL, 9 a.m.
Sunday, March 6th, Florida State College, south campus, 11901 Beach Blvd., Jacksonville, 9 a.m.
Sunday, March 13th, Mead Garden, 1500 S. Denning Dr., Winter Park, FL, 9 a.m.
Saturday, March 19, Colby-Alderman Park: 1099 Massachusetts Street, Cassadaga, 9 a.m.
Saturday, March 26th, Dreher Park, 1200 Southern Blvd., West Palm Beach, 9 a.m.
Sunday, April 3rd, John Chestnut County Park: 2200 East Lake Road, Palm Harbor, FL, 9 a.m.
Sunday, April 10th, Wekiva State Park, 1800 Wekiwa Circle, Apopka, Florida 32712. 9 a.m.
Sunday, April 17th, Bayshore Live Oak Park, 2200 East Lake Road, Port Charlotte, FL. 9 a.m.
Sunday, April 24th, Wickham Park: 2500 Parkway Drive, Melbourne, FL 9 a.m.
To learn more about the foraging classes go here.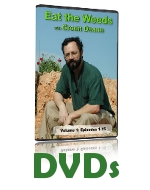 All of Green Deane's videos are available for free on You Tube. They do have ads on them so every time you watch a Green Deane video I get a quarter of one cent. Four views, one cent. Not exactly a large money-maker but it helps pays for the newsletter. If you want to see the videos without ads and some in lightly better quality you can order the DVD set. It is nine DVDs with 15 videos on each. Many people want their own copy of the videos or they have a slow service and its easier to order then to watch them on-line. They make a good gift for that forager you know. Individual videos can also be ordered. You can order them by clicking on the button on the top right of this page or you can go here. 
Want to identify a plant? Perhaps you're looking for a foraging reference? You might have a UFO, an Unidentified Flowering Object, you want identified. On the Green Deane Forum we — including Green Deane and others from around the world — chat about foraging all year. And it's not just about warm-weather plants or just North American flora. Many nations share common weeds so there's a lot to talk about, such as the one to the left. There's also more than weeds. The reference section has information for foraging around the world. There are also articles on food preservation, and forgotten skills from making bows to fermenting food. Recent topics include: So Much Free Food! Berries! What Kind Of Shrub Is This? Oxalis Corymbosa. Water Hyssop Recipes. Where To Get LUS Groundnut Strain? Is This Lambs Quarters? Small Herb, Solanum americanum, Winter Fruits in Sanibel, Are These Plants Related to Canavalia maritima? Lawn Weed, Wild Cucumber, Melothria Pendula, Edibility of Flowers From Landscape Hibiscus, Primitive Survival Class, Which Agave? Gallium or Carpetweed? and Dichotomous Key:   You can join the forum by clicking on the button on the upper right hand side of this page.
This is newsletter 189, and  Happy New Year! 
To donate to the Green Deane Newsletter or website click here.