The tasty Chickasaw Plum is one species that demands you buy a small hand lens. The magnifying glass doesn't have to be expensive but it should magnify at least ten times. I like square side-out lenses sold for inspecting coins selling for $7 to $10. They have a large window — mine's 1.5 inches across — and let in a lot of light. Little round metal lenses look shiny and neat but tend to not work well in the field because of the small lens.
The Chickasaw Plum and the Flatwood Plum can look a lot alike though there are some differences. The Chickasaw plum tends to have skinnier leaves and the Flatwood Plum flatter leaves. The Chickasaw ripens to a sweet plum and locally are coming into season now. The Flatwood ripens to soft over the summer but is often sour if not bitter as well. One way to tell them apart before they fruit is to look at the tips of the teeth on the leaves.  The Chicaksaw has glands on the tips of the teeth, the Flatwood does not. With 10x magnification you can easily see the teeth tips. Here they are magnified 30 times. These happen to be red but they can also be yellow.
Further north these plums ripen later in the season. Here they are usually done by July 4th but judging by trees I've seen in the area the season may be late and could run longer in July. To read more about the Chickasaw Plum go here.
As Mother Nature would have it edible Elderberries and the deadly Water Hemlock are blossoming at the same time. And while I have covered this before it is worth covering again because I have heard of some people identifying Water Hemlock as Elderberry. Along with a few mushrooms that is about as fatal as possible mistake. Perhaps the easiest thing to remember about the Water Hemlock is that its blossom is an umbrella of blossoms made up of smaller umbrellas of blossoms all coming from one spot. The Elderberry is not. The Water Hemlock also has leaf veins that terminate between the teeth of the leaves. And locally it is often splotched with purple. To read more about how to tell the two species apart go here.
While on the toxic theme recent rains have stimulated a mushroom monsoon of sorts. In Gainesville this past weekend one of the foraging students was more knowledgeable about mushrooms than I so it was an enjoyable morning of looking at an occasional mushroom. Yes, I do run three mushroom identification pages on Facebook but in the realm of fungus I consider myself an amateur and take advantage of every opportunity to learn more. There are some 86 different edible species of mushrooms in Florida and I have about 80 to go.
We saw some Lactarius, which as a genus are fairly easy to identify because they weep what looks like a milky liquid, the only group that does. But of more interest was some bright orange chanterelles. Instead of having knife-edge gills chanterelles have what has been called wrinkles down the stem. Also spied on an oak was a flush of young Oyster Mushroom. They, too, are choice and among the easier ones to identify. No, I did not take any. I left them to grow a bit for the locals. As always never collect a wild mushroom for consumption just by pictures you see. Learn from a live expert. My three facebook pages for exchanging observations are Southeastern US Mushroom Identification, Florida Mushroom Identification Forum, and Edible Mushrooms: Florida.
Answer to What Do You Do #15. The topic was the difficulty of picking out young edibles and identifying them. In this picture there are three common edibles species, one edible after cooking, and one very deadly plant whether you cook it or not. They are lamb's quarters, curly dock, radish, nightshade, and poison hemlock. That is why you have to pick carefully.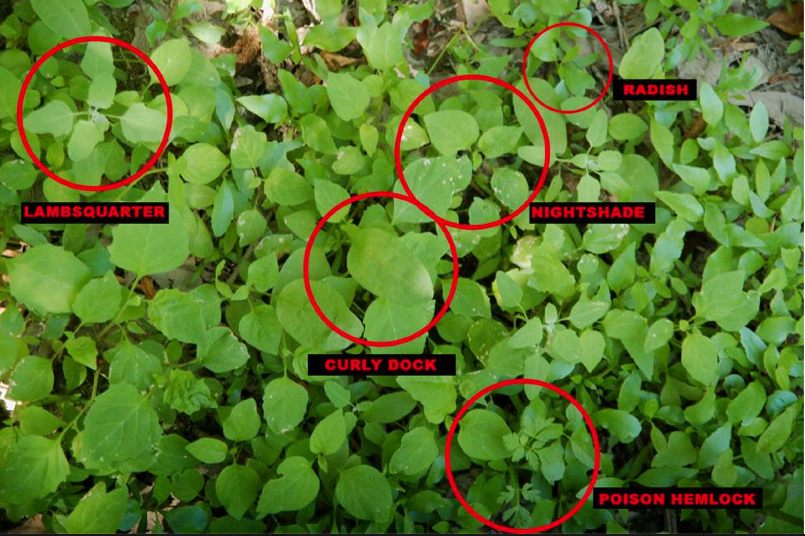 Upcoming Foraging Classes:
Sunday, June 22nd, Dreher Park, 1200 Southern Blvd., West Palm Beach, 33405,  9 a.m.
Sunday, June 29th, Bayshore Live Oak Park, 23000 Bayshore Rd., Port Charlotte, FL 33980, 9 a.m.
For more information about upcoming classes go here.   I will be also adding six weeks of classes this week.
My DVDS cover dozens of edible plants in North America. The set has nine DVD. Each DVD has 15 videos for 135 in all. Some of these videos are of better quality than my free ones on the Internet. They are the same videos that are for free on the internet but many people like to have their own copy. I burn and compile the sets myself so if you have any issues I handle it. There are no middle foragers. And I'm working on adding a tenth DVD.  To learn more about the DVDs or to order them click here.
On the Green Deane Forum we post messages and pictures about foraging all year long. There's also a UFO page, for Unidentified Flowering Objects so plants can be identified. Recent topics include: Lacto Fermented Soda Without Ginger,  Indian Hemp, Epazote, Breastfeeding and Teeth, Savannah Milkweed, Purple Tufted Camphor Fragrance, Visited The Lost World, You Know What They Say About us Cajuns, Long Pig, and Foraging Tools like the hand lens to the right . The link to join is on the right hand side of this page.
To donate to the Green Deane Newsletter click here.