Once you're done reading this newsletter turn off the computer and go find some Pawpaws. Now is the time locally to identify one of the more common species we have. The photo above is from a pasture in Volusia County near Gemini Springs. There are hundreds of Pawpaw blossoming there now and all along the bike trail through the area (as well as true thistles and Maypops.) In a few months there will be a lot of fruit here if the woodland creatures don't get to them first. It is, after all, their grocery store. We have Pawpaws with cream-colored blossoms and some dwarf versions with purple blossoms. While you can find them in nearly any dry location pastures are a good place to look because pastures are easy to find and livestock tend to not eat them.  This is one species you can also find while driving. Just look for four-foot shrubs with cream-colored blossoms as you go by. You will see Pawpaws. To read more about Pawpaws go here.
Also blossoming this time of year is the Eastern Coral Bean, sometimes called the Cherokee Bean. What is odd about this plant is the edible flowers produce toxic beans.  So we do not eat the red and black beans. A few of the red blossoms are edible raw but they are usually boiled then mixed with other foods notably scrambled eggs. When you cook the blossoms they turn light green. The distinctive shape of the leaves makes the shrub easy to identify. Young leaves are edible cooked but are marginal fare. Like Pawpaws they prefer dry, sunny places. You can read more about the Eastern Coral Bean here.
Mulberry are not blossoming now but rather fruiting. Today I pedaled 35 miles with the C.R.A.B.S. (Crusty Retired All recumBent Society.) Where we started the ride at Lake Monroe Park there were two fruiting Mulberry trees. They are an annual favorite and these were no exceptions: Both were being raided by birds and squirrels. They know good food when they taste it. Mulberries have a long history and several varieties are eaten. I have a history of making Mulberry pies. You can use  Mulberries just like blackberries. Young Mulberry leaves can also be cooked and eaten. Go here to read more about the Mulberry.
Foraging is treasure hunting for adults. While waiting for a bike to be assembled in Orlando last Friday I took a walk around the neighborhood of College Park. It had the usual species one would expect to find in this part of Florida this time of year except for a Variegated Mahoe. This is a south Florida landscape tree. There is one where my classes are held in West Palm Beach, 189 miles to the south. Related to the hibiscus the young leaves, inner bark, tender roots, and blossoms are edible. In fact the blossoms start the day yellow and turn red in the afternoon. I can only guess what one was doing alive in the Orlando area. As it was a foot through at the base perhaps it was planted way back in the last century when the winter temperatures were warmer. You can read about the Mahoe here.
Speaking of finding treasure… In the Carolinas in August I see a lot of Partridgeberries, also called Twin Berries because the separate blossoms fuse into one berry. They are edible but mild. Yet they are attractive with striking red berries and deep green leaves. They are not extroverted but if you see them they are attractive. Last spring a sharp-eyed lad saw them during a class I had in Gainesville. That was the first time I had ever seen them in Florida. This past Sunday during my foraging class in Wekiva State Park we found some Partridgeberries in blossom. According to the USDA chart it is not in Seminole County where the park is. Seasonally Florida and North Carolina are — as far as the Partridgeberries are concerned — about five months apart. As with the Carolinas these were spotted in damp but not inundated soil. You can read more about them here. 
Upcoming Foraging Classes: This Sunday I have a foraging class in Port Charlotte which is always pleasant because of the location. It's an area of the state I would not mind moving to as I slow down. And although the following not on my schedule I will be holding a class at noon on the 23rd of this month in Arcadia at Andy Firk's annual ForageFest.
Sunday, April 17th, Bayshore Live Oak Park, 2200 East Lake Road, Port Charlotte, FL. 9 a.m. We meet at the parking lot across from Ganyard Road.
Sunday, May 1st, Wickham Park: 2500 Parkway Drive, Melbourne, FL 9 a.m.
Saturday May 7th, Blanchard Park, 10501 Jay Blanchard Trail, Orlando, FL 32817. We meet at the pavilion next to the tennis courts west of the YMCA building. 9 a.m.
For more information about classes go here. 
Want to identify a plant? Perhaps you're looking for a foraging reference? You might have a UFO, an Unidentified Flowering Object you want identified. On the Green Deane Forum we — including Green Deane and others from around the world — chat about foraging all year. And it's not just about warm-weather plants or just North American flora. Many nations share common weeds so there's a lot to talk about, such as the one to the left. There's also more than weeds. The reference section has information for foraging around the world. There are also articles on food preservation, and forgotten skills from making bows to fermenting food. Recent topics include: Unidentified Cane Plant, Small Green, Scrub Jays!,  Type of Magnolia, Water-Loving Weed, Piper auritum, the tropical sassafras. New Mystery. Aesculus pavia. Bull Thistle? What A Waste. Like a Viola. Viola Bicolor. Urban Lawn Weed. Drymaria Cordata. Wild Blueberry blossoms? Foraging Group Ft. Lauderdale. Red Berries. Huge Thorns on Leaves. How Could An Infant Be Fed By Foraging?  You can join the forum by clicking on the button on the upper right hand side of this page.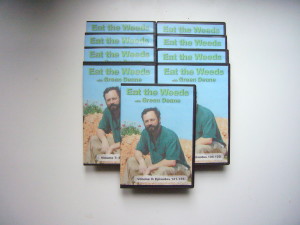 All of Green Deane's videos are available for free on You Tube. They do have ads on them so every time you watch a Green Deane video I get a quarter of one cent. Four views, one cent. Not exactly a large money-maker but it helps pays for the newsletter. If you want to see the videos without ads and some in lightly better quality you can order the DVD set. It is nine DVDs with 15 videos on each. Many people want their own copy of the videos or they have a slow service and its easier to order then to watch them on-line. They make a good gift for that forager you know. Individual videos can also be ordered. You can order them by clicking on the button on the top right of this page or you can go here. 
This is Newsletter 203. There was no newsletter last week because of server issues following a hacking attempt. The site also now resides in a much larger "cloud." While that has not eliminated all of the bugs the site is for now working better. The Google search is not working as well as it would and not finding articles I know I wrote. I have had to look at my archive list to find some of them. Hopefully that will be corrected.
If you would like to donate to Eat The Weeds please click here.