Set of 9 DVDs, each with 15 of Green Deane's informational videos!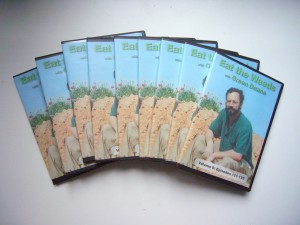 Whether you lack a stable internet connection or you just want Green Deane on DVD, this will be a valuable resource to add to your foraging collection. Every video that Green Deane has created for Eat The Weeds is included in this set!
Over the years, Deane has created 135 short videos, describing natural plants and other foliage around the area to help you identify those that are edible and what to do with it. That works out to $1 a per video!
Would you like to know what topics are covered in the DVD set? Keeping reading …
Volume 1

Volume 2

Episode 1: Why Learn About Wild Foods?
Episode 2: "ITEMIZING" Edible Wild Plants
Episode 3: Crepis japonica, False Hawksbeard
Episode 4: Sow Thistles
Episode 5: Wild mustard greens
Episode 6: Peppergrass, Lepidium virginicum
Episode 7: Pokeweed, Phytolacca americana
Episode 8: Sassafras & Mulberry
Episode 9: Making Hard Cider
Episode 10: Rumex (Sorrel)
Episode 11: Bull Thistle I
Episode 12: Chickweed, Stellaria
Episode 13: Plantagos, Plantains
Episode 14: Henbit, Lamium amplexicaule
Episode 15: Spiderwort, Tradescantia
Episode 16: Cactus, Opuntia
Episode 17: Amaranth
Episode 18: The Daylily
Episode 19: Smilax
Episode 20: Lichen, Cladonia
Episode 21: Spurge Nettle
Episode 22: Duck Potatoes
Episode 23: Pennyworts
Episode 24: Wekiva River
Episode 25: American Lotus
Episode 26: Yucca filamentosa
Episode 27: Chickasaw Plum
Episode 28: Bananas
Episode 29: Elderberries
Episode 30: Yellow Pond Lily

Volume 3

Volume 4

Episode 31: Jelly Palm
Episode 32: Wild Grapes
Episode 33: Homemade Vinegar
Episode 34: Maypop, Passion Flower
Episode 35: The False Roselle
Episode 36: Spotted Beebalm, Horsemint
Episode 37: 24 Wild Edibles in Wekiva State Park
Episode 38: Water Hyacinth
Episode 39: The Bitter Gourd
Episode 40: American Beautyberry
Episode 41: Caesar Weed
Episode 42: The Persimmon
Episode 43: The Sumac
Episode 44: The Sassafras
Episode 45: Winged Yam
Episode 46: Stachys floridana
Episode 47: Apios americana
Episode 48: Saw Palmetto
Episode 49: Usnea
Episode 50: Acorns
Episode 51: Chinese Elm
Episode 52: Wild Edibles at Turtle Mound
Episode 53: Creeping Cucumber
Episode 54: Hickories
Episode 55: Firethorn, pyracantha
Episode 56: Crowfoot Grass
Episode 57: Crepis II
Episode 58: Ground Cherries, Physalis
Episode 59: Sonchus a.k.a. Wild Lettuce
Episode 60: Violets, Violas

Volume 5

Volume 6

Episode 61: Pellitory, Parietaria
Episode 62: Dandelions
Episode 63: Stinging Nettles, Urtica
Episode 64: Cattails, Typha
Episode 65: Drymaria Cordata
Episode 66: Sonchus II, Sow Thistle
Episode 67: Oxalis, Wood Sorrel
Episode 68: Soldier's Creek
Episode 69: Watercress
Episode 70: Basswood Tree, Linden, Lime
Episode 71: Solar Cooking
Episode 72: Seablite, Seepweed
Episode 73: Kudzu
Episode 74: Glasswort, Salicornia, Samphire
Episode 75: Spanish Needles, Bidens
Episode 76: Sea Rocket, Cakile
Episode 77: Mead Garden, Part 1 of 4
Episode 78: Mead Garden, Part 2 of 4
Episode 79: Mead Garden, Part 3 of 4
Episode 80: Mead Garden, Part 4 of 4
Episode 81: Sea Purslane
Episode 82: Poke Weed II
Episode 83: Milkweed Vine
Episode 84: Lambsquarters, Pigweed, Fat Hen
Episode 85: Wild Cherries
Episode 86: Papaws, Pawpaws
Episode 87: Blackberries, Dewberries, Rubus
Episode 88: Coquina & Mole Crabs
Episode 89: Pickerelweed
Episode 90: Smartweed, Knotweed

Volume 7

Volume 8

Episode 91: Purslane
Episode 92: The Pine Tree
Episode 93: Tumbleweed, Russian Thistle
Episode 94: The Natal Plum
Episode 95: Beach Orach, Crested Salt Bush
Episode 96: Wild Apples
Episode 97: Strawberry Guava
Episode 98: Wax Myrtle
Episode 99: Commelinas, Dayflowers
Episode 100: Sandspurs
Episode 101: Apios americana II
Episode 102: Begonias
Episode 103: Podocarpus macrophyllus
Episode 104: The Perseas
Episode 105: Skunk Vine
Episode 106: Persimmon Bread
Episode 107: Cabbage Palm
Episode 108: Pyracantha/Firethorn Sauce
Episode 109: Bull Thistle II
Episode 110: Bacopas & Creeping Charlie
Episode 111: Wild Radish
Episode 112: Lake Lily Part I
Episode 113: Lake Lily Part II
Episode 114: Cast Iron and Pig Weed
Episode 115: Smilax II
Episode 116: The (Eastern) Coral Bean
Episode 117: The Mulberry
Episode 118: Loquats
Episode 119: The Paper Mulberry
Episode 120: The American Nightshade, Part I

Volume 9

Episode 121: The Hollies
Episode 122: Sword Fern
Episode 123: Ivy Gourd, Tindora
Episode 124: Acorn Grubs
Episode 125: The Silverthorn
Episode 126: The Eastern Redbud
Episode 127: The Christmasberry, Wolfberry
Episode 128: Epazote
Episode 129: Blue Porterweed
Episode 130: Horseweed
Episode 131: Bon Appetit
Episode 132: The Camphor Tree
Episode 133: The Simpson Stopper
Episode 134: Neighborhood Foraging