Urtica chamaedryoides: Nettle Knowledge
Stinging Nettles Know How 
I  was hiking one day when I saw what I thought was a mint I had not seen before. I picked a leaf and it bit me, badly. Welcome to the world of stinging nettles.
As luck would have it, I also picked the North American nettle that stings the worse, Urtica chamaedryoides (UR-tee-ka  kam-ee-dree-OY-deez) which is a combination of Dead Latin and Living Greek that means "burning dwarf." Modern Greeks call the nettle Tsouknida.
Humanity has been using the nettles for thousands of years. Not only are they an excellent source of food but also cordage. They  also seem to be an element of grade-school torture, judging by all the videos on the Internet involving kids and nettles.
From the nutrition point of view, they pack a wallop as well. Stinging Nettles are rich in vitamins A, C, D, iron, potassium, manganese, and calcium. They are also high in protein and when cooked are very mild, tasting similar to spinach but slightly rougher.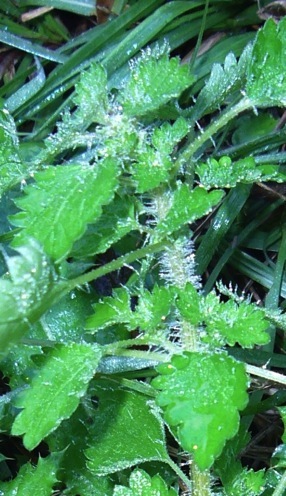 Indeed, soaking, cooking, refrigerating, wilting or drying neutralizes the plant's sting. Good as the plant is it should not be eaten after flowering. It reportedly can irritate the urinary tract, which makes some sense as it is a diuretic as well. It also gets stringy as it ages. Cooked nettles can be used in a wide variety of recipes from polenta to pesto to soup. There is a recipe below. The water you cook the nettles in can be kept for tea or as a soup base. You can also dry the leaves and use them for tea as well.
The stems of the nettles contain bast fiber and have been used the same way as flax, Caesar weed, Spanish Moss, and retted similarly. (Retting is a means of rotting off the non-fiber material of the plant. ) The fiber is more coarse than cotton, closer to burlap. Clothes have been made out of it and it was a fashion style recently.
As for stinging… I have been stung by a spurge called Cnidoscolus stimulosus and this stinging nettle (Urtica chamaedryoides.) While both bites are different I think the Urtica wins, so to speak.  With me the Cnidoscolus' contact begins to burn slowly and intensifies over an hour or so and then goes away completely by two hours. The Urtica hits, as Shakespeare said,  like a "hotspur" throbs, then lessens in an hour but stays painfully sore as a welt for several days especially after contact with water.  The juice of a jewelweed or dock is reportedly a good treatment of the Urtica sting. Didn't work.  The juice of a chewed leaf is also supposed to bring relief but I can say that absolutely does not work with me. Nor plantagos or urine. A paste of baking soda did bring some relief.
There are some look-alike plants to the beginner. Two are the Pilea pumila and a new weed, the Fatoua villosa.  Neither sting. It is that simple. A third plant that does not really look like the Urticas but does sting is the aforementioned Cnidoscolus stimulosus. It has deeply palmate leaves and large white flowers, at least a half inch or more across.  You can see a picture of the Fatoua on the UFO page. The article on the Spurge Nettle is here.
One last word before the recipe. While folks can be allergic to stinging nettles they are also used to treat certain allergies particularly hay fever. Around the world nettles have been used for at least centuries to treat nasal and respiratory issues such as coughs, runny nose, chest congestion, asthma, whooping cough and in some cases tuberculosis. The roots are used as well as dried leaves. Apparently freeze dried leaves are the best.
Nettle Pesto
Ingredients
6 cups fresh nettle, blanched in boiling water for a minute, drained and roughly chopped, 2 cloves of garlic finely chopped, 1/3 cup  pine nuts, 1/2 cup grated Parmesan cheese, 1/3 cup olive oil, salt and pepper to taste.
Directions
Place the blanched nettle, pine nuts, Parmesan, a little salt and pepper, in a food processor. Blend the mixture until the mixture is smooth, or reduce by hand. While the motor is running, or mixing by hand, gradually pour in the olive oil until well distributed.
Green Deane's :"Itemized" Plant Profile: Stinging Nettles
IDENTIFICATION: Urtica chamaedryoides: An unbranched weed one to several feet high, small inconspicuous flowers, fine bristly hairs all over the stem, leafstalks and underside of leaves. Very obvious. The bristles sting greatly when gently touched.  Manhandling the plant reduces the chance of being stung as it breaks the hairs before they sting.
TIME OF YEAR: Spring and fall, depending upon the climate, during Florida's winter into spring.
ENVIRONMENT: Moist areas, along streams and woodlands, nettles are found around the world.
METHOD OF PREPARATION: Leaves raw or cooked but eating raw requires much skill to reduce stinging. Usually young shoots and leaves are boiled 10 to 15 minutes.  Reserve the resulting water for nettle tea. Once cooked use like spinach or basil. Very nutritious. The cooking water is good as a tea or soup base. Dried leaves can be used to make tea. If you are an the trail you can use an alternative method of preparing nettles used by Ray Mears, and English wild food expert. He places the entire plant near a fire for a few minutes until it completely wilts, and that stops it from stinging. Mature stems can be used for cordage.