When trees from temperate forests are moved south they often don't fruit because the winters are not cold enough. They need chill hours. This appears to be the case with the Paper Mulberry which is fruiting in the northern part of the state but I've never seen it fruit in the central part. Once you know what the tree is, it's easy to identify though I will admit it took me a few years to ID it because of the fruiting issue. It has large fuzzy leaves and orange pompom fruit. The large seed in the middle is not eaten. This is not a fruit that travels well so it is usually eaten on site or as soon as you get it home. They should be fruiting for a few more weeks. To read more about the Paper Mulberry go here.
Cactus and palms share some misconceptions. Mention cactuses and most northerners dismiss them as a warm-weather inhabitant. However cactus are native to 46 of the 50 states (the states they are not native to might surprise you.) Palms are not as wide spread but they can grow in more places than one might expect, such as Washington D.C. and points south. A palm that can grow that far north was once favored for home use but since the proliferation of manicured lawns is considered trashy. The Pindo Palm, however, is one of my favorite. Most southern homes used to have one planted somewhere nearby. One can usually make jelly from the fruit without adding pectin or sugar. I would add this is probably true for those who have jelly-making skills.  As confections are not my forte I alternated between Pindo jelly and Pindo syrup. The reason why it is considered "trashy" is that it drops a lot of edible fruit on neat lawns… that ferment… and smell like wine… To read more about the Pindo Palm, click here.
In foraging circles botanists often get a bad rap because they are not interested in wild edibles and most of their job is about getting rid of plants (edible weeds) and promoting (non-edibles) ornamentals. Sometimes botanists can get it right as in 2009 when they recommended Yaupon Holly become a commercial crop again. It used to be a favorite pick-me-up drink in centuries past. Well-supplied with caffeine, it's the North American version of Yerba Mate. A company in Daytona Beach, Yaupon Asi Tea, have successfully put their organic yaupon tea on the market. The company is offering six brands, all high in anti-oxidants: Traditional Timucua, Roasted Osceola, and, four flavored blends; Lavender-Coconut, Cinnamon-Apricot, Chamomile-Mint, and Chocolate Chai. You can visit their site here.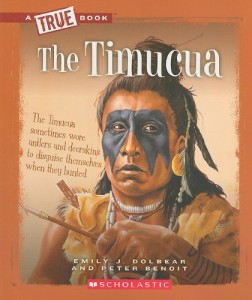 As an aside … naming a tea after the Timucuan Indians reminds me of marketing decisions. The Timucua natives certainly drank the tea, both as a mild-flavored pick-me-up and as a strong ritual emetic. Their name is said tim-MUCK-ah-wah, yes, with a big harsh MUCK in the middle. It doesn't exactly roll off the tongue and has the native guttural sound to it. An upscale housing development near here decided to name itself after these Florida natives but didn't like how the name sounded so they invented a new, genteel pronunciation: TIM-ah-quan. Copywriters might like the smooth assonance but it's far from authentic.
If any native North American fruit deserves to be classified as strange to bizarre it is the papaw, AKA pawpaw (which is an old confused mangling of papaya.)  It is ripening in its southern most ranges but further north won't be edible until late August or September. Also the farther north one goes the larger the species members grow. Locally they are bushes, in their northern range trees. Though they grow in northern climes I never saw one until I moved south. I can remember the first time I spied one because it looked like nothing else I knew so it had to be a pawpaw. To read more about them go here.
Collecting ones personal reference library can be an on-going project. This can involve new and used publications if not an occasional disk or DVD. I personally prefer books because all I need to read them is daylight but I will admit to owning some Ray Mears videos. I have well over 100 foraging-related books — some rainy day I might do a video on them — but I still visit used books stores looking for relevant publications. If they are not too far out of date they usually have good information. In fact, the recipes on my site on how to use Yaupon Holly came from a crumbly old book published in the 1930s. The only significant problem with older books is often botanical names have changed so you have to update those. Recently I visited a book store in Ocala and picked up for a few dollars: Wild Flowers of the Rocky Mountains, Wildflowers of the Western Plains, Cacti of Texas, Forest Trees of the United States and Canada and How To Identify Them, and an extra copy of Florida Wild Flowers.
Upcoming Foraging Classes:
Saturday, July 11th, Florida State College, south campus, 11901 Beach Blvd., Jacksonville, 32246, 9 a.m.
Sunday July 12th, Mead Garden: 1500 S. Denning Dr., Winter Park, FL 32789. 9 a.m.
Saturday July 18th, Dreher Park, 1200 Southern Blvd., West Palm Beach, 33405. 9 a.m.
Sunday July 19th, Bayshore Live Oak Park, 23000 Bayshore Rd., Port Charlotte, FL 33980, 9 a.m.
Saturday, July 25th, Boulware Springs Park, 3420 SE 15th St., Gainesville, FL 32641 9 a.m.
Sunday, July 26th, Jervey Gantt Recreation Complex, 2390 SE 36th Ave., Ocala, FL, 34471, 9 a.m.
For more information or to sign up for a class go here. 
Need to identify a plant? Looking for a foraging reference? Maybe you have a UFO, an Unidentified Flowering Object, you want identified. On the Green Deane Forum we — including Green Deane — chat about foraging all year. And it's not just about warm-weather plants or just North American flora. Many nations share common weeds so there's a lot to talk about. There's also more than weeds. The reference section has information for foraging around the world. There are articles on food preservation, and forgotten skills from making bows to fermenting food. Recent topics include:Pawpaws Almost Ripe, Cross Wine, Quite the Taproot, Venation is Plantago-esque,  Sumac? Unknown Ornamental, Pipsissewa uses? Artemisia douglasiana, Smilax, Yet Another Vine, Is This Cilantro or some kind of nettle? Mulberries Mulberries as far as the eye can see. What Kind? tincture or tea? Becoming a Wild Food Expert, Latex Strangler Vine in Blossom, Seminole Pumpkin Squash, Removing Oxalates, I Believe This Is a Tulip Tree, Virginia Creeper Again. Edible but too small, Here's One I saw near the office, and Transplanted Tree Root Structure. You can join the forum by clicking on the button on the upper right hand side of this page.
By the way, the states cactus are not native to are Hawaii, Vermont, New Hampshire and Maine. Yes, there are cactus native to Alaska.
Newsletter #168. To subscribe to Green Deane's weekly  EatTheWeeds newsletter, go to the upper right side of this page.