When our local sow thistles are young it makes little difference which one we pick: They taste the same and have similar texture. But as they age they take on different characteristics. The spiny sow thistle's soft spines eventually become stiffer. That makes it a bit rough on the tongue and can irritate some tummies. In old age it is really too spiny to eat. Also take a look at how the spiny sow thistle's leaf — left — attaches to the stem. Notice not only the numerous spines but how the leaf terminates in a circular pattern. The leaf itself does not have a stem.
To the right is the leaf of the common sow thistle. Not only is there an absence of true spines but the stemless leaf reaches past the main stem. That projection, one on each side, is called an auricle (an ear.) The common sow thistle is the kinder, gentler of the two and stays tender longer as it ages. Its leaves tend to be more distinctly lobes than the spiny sow thistle. Also the common sow thistle is a slightly bluer shade of green especially when it ages. The spiny sow thistle is also more shiny.
Long-time Florida forager Dick Deuerling was well-known for having a few sayings. One was what I have called over the years "the Dick Deuerling" method. When someone said some wild plant was edible and Dick didn't think so he would say: "Let me watch you harvest it, prepare it, cook it, and eat it. And if you are still alive in a couple of weeks I might try it." Another of his sayings was "I only eat the good stuff." Dick was a retired postman who in another life would have been a plant taxonomist. "Good stuff" to him meant more than edible. It had to be tasty. A fruiting plant soon coming into season here is edible and tasty but I'm not sure Dick would have put it on his foraging list: The Creeping Fig.
The Creeping Fig hides before your eyes. It usually takes over a wire or concrete fence to the point the fence looks like a large, planted hedge. Sometimes it will cover an entire wall. But if the structure is wooden it will destroy it. When I say it is barely edible this does not mean it's not tasty. It's just a lot of work for something not often eaten outside of the orient. Creeping Figs themselves aren't eaten per se but rather their cooked then jelled juice is. To read more about them click here.
My email has seen a significant increase in the following kind of message: Why isn't XXXX edible? It looks like it is and I believe we should be able to tell by our senses if its edible or not. We should know what's edible or not without having to be told. After all that's how early man did it, right?" The next sentence usually says something along the lines that animals do just fine following their senses on what's edible or not. That is where the argument breaks down. Humans know certain plants are toxic because we can pass on specific information. Animals can't. Animals are poisoned all the time, thousands of cases every year, big and small, from eating something that made them sick or dead. In fact, agricultural losses was the genesis of "Poisonous Plants of the United States and Canada" by Professor John Kingsbury, still a standard reference. Many house plants around for centuries are deadly to cats and dogs who eat them now as they did a century ago. Thousands of humans also poison themselves every year as well with plants. Two species that people often think should be edible for us humans but are not are Peppervine and Virginia Creeper. Interestingly they were once in the genus (Ampelopsis) and are related to grapes.
Peppervine is Ampelopsis arborea. It produces large, inviting, shiny black berries that have varying degrees of peppery-ness. It can also cause contact dermatitis. There are 25 species in the genus, three in North America; the aforementioned as well as A. cordata and A. mexicana. The first two have been used for dying, brown on its own, orange with a mordant. There are sporadic reports of the berries being edible and many reports of them making people sick. Best guess is perhaps the offending chemical(s) might vary season to season or by location. Usually folks who report "eating" them only try a berry or two (no, I do not recommend you try it.) Another possibility is preparation. It just might be that the offending chemical(s) can be precipitated out (this is only a guess.) Cooking the berries and letting them sit in a refrigerator might do that. I don't know. That's for chemists and emergency room physicians to decide. My advice is leave it alone. You don't have to eat any wild plant.
The related Virgina Creeper (Parthenocissus quinquefolia) is also on the want-to-be consumed list. Here the problem is worse. Authorities generally agree it is toxic, if not kidney damaging and deadly particularly to children. And it was that way for about 60 years. There was a pamphlet issued by the USDA in 1936 (during the Depression) about foods some northern tribes ate. The author, E. Yanovsky, said they ate Virginia Creeper berries. Most botanists thought he got it wrong — either the edibility or even the species — and left it at that. But an enthusiast's book printed in 1996 mentioned the Virginia Creeper as edible (no evidence the author himself ever ate them.)  Then in 2010 a very authoritative book repeated that they were edible (again no evidence the author ever ate them.)  Now Yanovsky's very questionable report is truth on the Internet.
The problem we have beyond the issue of basic edibility is also possible preparation. As foragers we already know that method of preparation can make the difference between a tasty meal and a trip to the emergency room. Were the berries seeded? Frozen? Fermented? Bletted? Dried? Roasted? Boiled? Stored for a year first? Mixed with something else? Even when you know something is edible that is not enough. The method of preparation is critically important. With these two species we have serious doubts about edibility as well as scant information on possible methods of preparation. That adds up to just leave them alone. They are in a family with a long history of making people sick.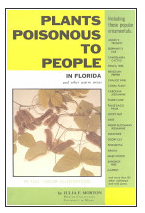 Now, with all that said, there is one curious fact: In her book, Plants Poisonous To People In Florida, (1995) the encompassing Julia Morton, professor of botany at the University of Miami and grand dame of edible and toxic plants in the state, did not include either plant in what was to be her last book, left. For such a person that would have been quite an oversight or perhaps she did not think them worth mentioning. The plants are extremely plentiful where she lived so she would have certainly known about them. Perhaps she had no contemporary "poisonings" by them to report. Morton died in a car accident the next year so we'll never know if a second edition might have included them.
I saw two advertising headlines on trucks recently that caught my attention. One was a flat bed for a company that paves driveways in Tampa. The clever sign said: "If your driveway's crack it's not our asphalt." Good marketing but one suspects driveway stones that let rainwater though and don't leach bad chemicals would be a better choice. The other truck was lawn maintenance. Its sign was more to the point: "If you grow it we mow it."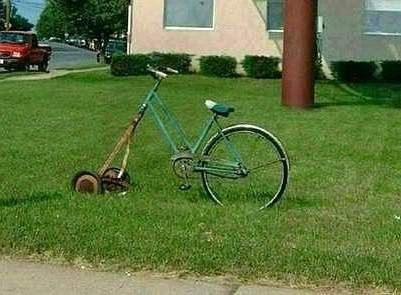 The first thought that crossed my mind was why do people grow lawns? I might even go as far as to ask why do men grow so much grass since they do most of the home lawn keeping in the United States. Historically men have been the tamers of the wilderness which lawns might represent. When you add power tools and things you can ride, we might have part of an answer: Lawns are modern wilderness men have to tame.  One friend said that when he's done taking care of his lawn he feels a sense of accomplishment. He can see a difference, a job well done. I have a neighbor who has at best a thousand square feet of lawn total. He has a huge riding mower, a chipper, blower, hedge trimmer, edge trimmer and lawn vacuum. Nearly every Sunday his entire day is spent manicuring his small patch of grass. Another neighbor is trying to keep a lawn like a putting green. Indeed, I know two people who mow their lawn every day. Maybe lawns are maintained because they are there. As I have said before, trees earn their keep, lawns have to be kept. Perhaps the key to change is stop building new homes with lawns.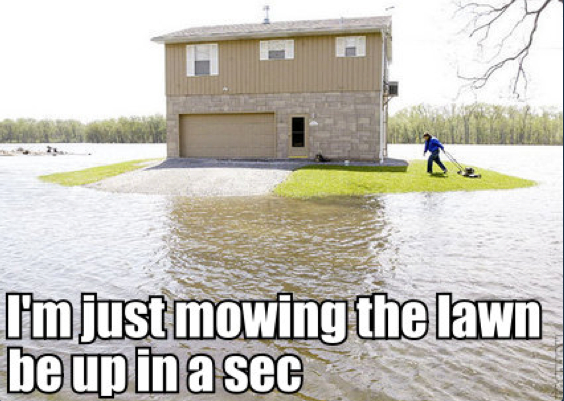 Lawn grass is the second-largest crop in the United States after another grass, corn (and I suspect if corn was not subsidized by the government lawn grass would be the largest crop.)  Sixty percent of drinkable water in suburbia goes to watering lawns. Home owners also use 10 times more pesticides and fertilizer than they need to maintain their lawn (and far more than farmers use.) A lot of folks worry about the impact of Big Agriculture on the environment. What about the environmental impact of Big Lawn? Besides excess use of pesticides and fertilizer millions of gallons of gasoline and oil are accidentally spilt every year while working with those lawn-related power tools. Lawns just aren't green. One can envision a transition over many years: First new homes without lawns being added then a lawn tax for those who must keep them. That will happen when politicians realize it is a new source of income.