It is Memorial Day, 2014. As veteran, and the son of a veteran, I thought I would mention the well-known red poppies such as the ones I am sitting with in the picture above. They do make it into the edible realm and are not the infamous poppies of drug lore. Though the picture was taken in Athens (Greece) the European blossoms are called  the  "California Red Poppy" among many names. The "Corn Poppy" has become closely associated with veterans though perhaps more so in the past than now. But it is a tradition that continues. How this came to be is quite a story and you can read it here. 
Where do you forage? It's a simple question with a complex answer. When I was younger the 1000 acres behind the house and the 2000 across the road answered that question. Today it is where ever I can. Indeed, at a local health food store a woman that I've been trying to get interested in foraging recently said "there's no place to forage." She is wrong, but more right every year.
To be utterly frank, I forage where ever I find the plants and where I think the soil and water are wholesome. This means yards, parks, fields, vacant lots, cemeteries, bike trails, the back of businesses, residential neighborhoods, abandoned citrus groves and golf courses, working citrus groves, church grounds, and local woods. This is also a tad iffy since this state says you can't take plants from public land and everything that is not private is public. However, that usually applies to plants they don't want removed whereas I am usually taking plants they want to get rid of. No one loves weeds but me and thee. I also forage in lakes, ponds, rivers, the inner coastal waterway and seaside.
The truth of the matter is I spy the edible plant first and then I ponder where it is second.  If it is a pindo palm on a lawn I ask the homeowner if I can have the fruit and if he or she puts down pesticides. If it is a body of water I examine the quality of the water. A bubbling spring and a slow ditch are quite different but I can find water cress in either. If it is a field it depends where, and the  less witnesses the better.
It might be more instructive to say where I don't forage. I try to avoid any land or water that has parking lot run off. I don't forage down hill from the interstate or a heavily-traveled road. Uphill I might is it were far enough away. Avoid anyplace near a garage or repair shop. And the absolutely worst place to forage is railroad lines, even old ones. Railroads are among the most toxic property in the United States, and among the longest contaminated. Folks have died from chemicals put down around the tracks to hold the weeds down. What you can do is collect seeds there and plant them to get a clean generation.
And whenever a police officer stops me I just say "I'm looking at the flora and fauna." That usually creates a blank stare to which I add "I know something about edible plants and I'm looking for something to eat." By then they usually decide I am not any threat to anyone except myself and they leave me alone.
There is little doubt that man has been foraging for food for a long time. As one might guess, in different places he foraged for different plants. He also foraged before there were cities and suburbia. Foraging continued well into the 1900′s, and of course, selectively today.
Among the challenges of teaching foraging is finding suitable sites. In my classes I tend to visit the same areas about six times a year, if not more often. Almost all of these sites are in suburbia, not in the wild. This surprises people because they assume wild food is out in the wild-erness.  When the famous Willie Sutton was asked why he robbed banks, he said because that's where the money is. I teach foraging in suburbia because that's where the edible plants are.
That said, I have to qualify that comment. There are edibles in the wilds, but they tend to be different than those found in population centers and represent more a subsistence living than variety.
Many edible weeds, perhaps the majority, are not native. They are from somewhere else. They come with humans and humans go to population centers.
In an old city park I can usually find 60 to 100 edible species and I usually have to walk only a mile or so. In a state park I can walk 10 miles and find perhaps two dozen edible species. This is not to say native food is inferior or rare. It is better to say the choice is limited. But when you combine native and imported plants (and edible ornamentals) then one has a large menu.
The other reason I use city parks is because most of the species we find there most folks can also find in their own yard or neighborhood. It's good to learn what the natives ate to survive but most folks want to find food around their own home, not a distant park (where foraging is probably also illegal.)
Foraging in suburbia does raise the issue of pollution, and that has to be taken into consideration. Despite that complication foraging in suburbia is where more people forage today. It is where most people find their wild food, and it's where I teach. Willie Sutton would understand.
What Do You See #14 was taken in a wet spot. There are two species in the picture in the same genus, both used. Can you name them? The answer will be printed here next week or can be found on the Green Deane Forum now under What Do You See?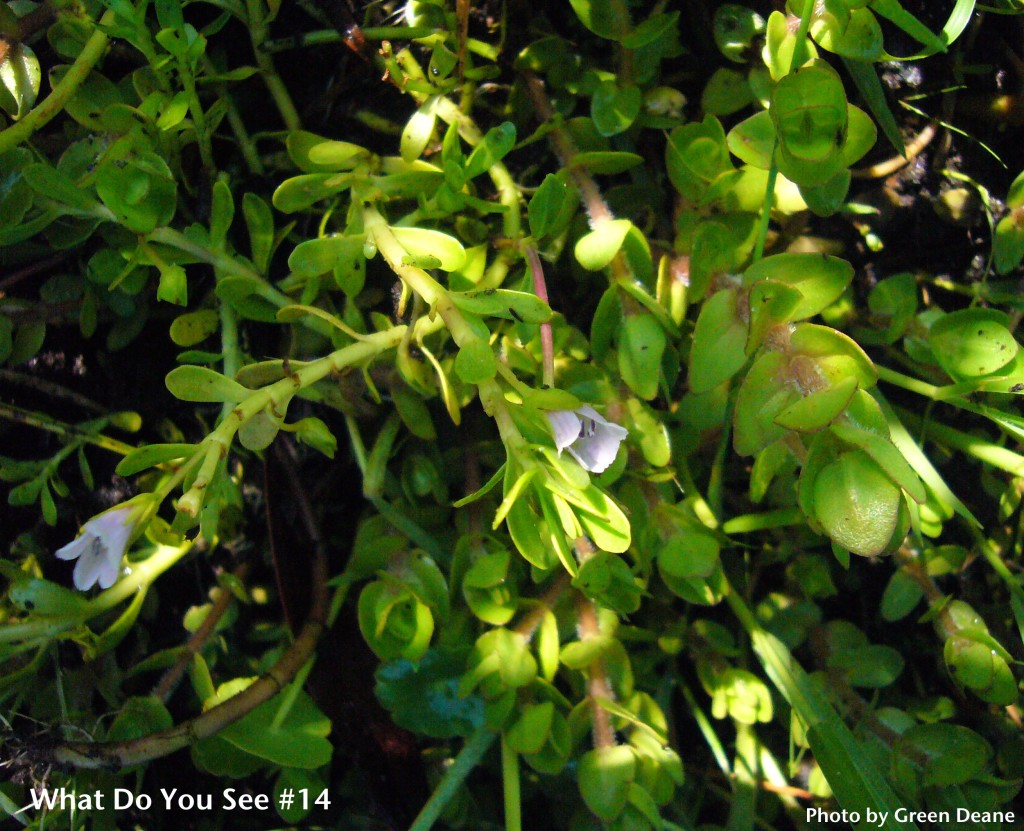 Foraging Class for this weekend:
Sunday, June 1st, Mead Garden: 1500 S. Denning Dr., Winter Park, FL 32789.  This class will be unusual in that it will start at 8 a.m. rather than the usual time.
My foraging videos do not include alligators but they do cover dozens of edible plants in North America. The set has nine DVD. Each DVD has 15 videos for 135 in all. Some of these videos are of better quality than my free ones on the Internet. They are the same videos but many people like to have their own copy. I burn and compile the sets myself so if you have any issues I handle it. There are no middle foragers. And I'm working on adding a tenth DVD.  To learn more about the DVDs or to order them click here.
On the Green Deane Forum we post messages and pictures about foraging all year long. There's also a UFO page, for Unidentified Flowering Objects so plants can be identified. Topics this morning included: Heal All, Climate Change, Catalpa Worms, Disease and Blood Type, Opuntias, Bonsai, and Red Corn Poppy.  The link to join is on the right hand side of this page.