The experiment begins. Many of you have noticed I do not list Brazilian Pepper as an edible. I have not mentioned it for three reasons. First it's related to poison ivy. Next, some people have an allergic reaction to it. And lastly Professor Julia Morton wrote a damning monograph about the tree in the Journal of Economic Botany in 1978 [32(4) pp 353.]  She cites numerous examples of illness related to the tree, both external and internal. There is also evidence that like poison ivy once resistance is lost any contact with the plant can cause problems. In fact, some people get symptoms just resting in the shade of the tree.
However, it is related to the tree that gives us "pink" pepper corns, and stories abound in Florida about using the dried fruit as a spice. Indeed, I have a student, Fred, a native Floridian, who has been using the dried fruit for decades as a spice, particularly on seafood. It's difficult to argue with first-hand experience like that. Morton, iconoclastic as she was, does say on page 126 of her book "Plants that Poison People"  "a few fruits have been ingested by infants with no ill-effects, but, in quantity, they cause gastroenteritis and vomiting." She continues to say using "pink peppercorns for seasoning may have unpleasant consequences." What you should also know about Morton is that her colleagues accused her of being willing to eat nearly any plant so when such a macrophage gives a warning it is not to be lightly ignored.
What I have done is to collect quite a few berries. I am dehydrating some and others I have left to dry as a bunch, as is often down with an edible relative, the sumac. I shall be working with them and will report the results. Stand by.
♣ Dreher Park: We had a truly enjoyable foraging class Sunday at Dreher Park in West Palm Beach. It was a classic Florida day with plenty of sunshine, sun screen, and a high of 77º F.  The expertise ranged from a globe trotting pixie from Slovakia to an herbalist attending for a second time who had some good Sida information. In profusion was the winter annual pellitory occupying nearly every patch of seasonal shade. Sprouting in second was Poor-Man's-Pepper. Bitter Melons fruits were not seen nor were there any Wild Cucumbers to sample. But, there was plenty of Blue Porterweed blossoms to taste (see above.) Always a surprise. I want to thank everyone who attended including Kelly; singer, actress, and photographer who made it possible for me to stay overnight in Stuart rather than having to hop on a motorcycle at 4 a.m. for the 189 mile ride.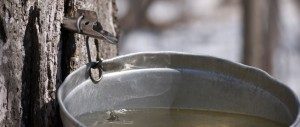 ♣ Tapping Trees: Siphoning sap from maples to make syrup is a uniquely North American tradition. It's a mystery why Europeans, who have maples, never discovered the sweet art. The traditional way of tapping is to drill a hole in the tree and insert a tap. You can read about that and Maples here.  But, there is another way to get sap from trees on a smaller scale that is less damaging and less involved.
You gather a bunch of young branches together, cut off the ends then put them into a soda bottle, or if you still have them from your beer-making days, a glass bottle. Secure the bottle and if plastic weigh it down if necessary so the branch droops. A second method is to use plastic bags to catch the sap, either sandwich bags or gallon freezer bags. The latter tend to sag naturally eliminating a need to make the branch droop. Depending upon the species and time of year you can get from an eight of a cup to half a cup in a 24-hour period. Among the species you can tap are Maples, Birches, Sycamores, Larch, Walnuts and Limes.
 ♣ Botany Builder #13:  What's the difference between a shrub and a tree? Generally a shrub is a woody perennial with several main stems close to the ground so that it has no main trunk. A tree is over 12 feet tall or so and has one main trunk near the ground. Both persist all year. While those definitions are reasonably clear in the field things can get fuzzy. Trees can be stunted, shrubs trained et cetera. Some call a papaya a tree, others an herb (non-wood.) Some call smilax, a vine, others a "climbing shrub." But generally said, look at the height and number of main stems near the ground. Under 12 feet and many stems, probably a shrub; over 12 feet one main stem, probably a tree. Some would double the possible height of a shrub to 24 feet. That's not unusual in subtropical or tropical areas.  Incidentally, the trunk of a tree is also called a bole.
♣ Articles added this week: Wild Rice, Wild Flours.
♣ A reminder: Two months from today there will be a large herbal conference in Ocala. I will be presenting as will several others. Because you subscribe to my newsletter you can get a 20% discount, and, good to see, many you have taken advantage of that and signed up. There are benefits to being involved. March is a wonderful time for plants and people in Florida. Here's what you need to know and some highlights:
The Florida Herbal Conference is March 23-25 in Ocala at Camp Kiwanis located in the national forest. Teachers from around the state will gather to share their wisdom and experience about herbs and healing. Participants can choose from over 30 workshops, plant walks, and classes throughout the weekend, ranging from Clinical Herbalism to Kitchen and Garden medicine. Relax with recreational activities such as dance, henna, yoga, singing, canoeing or just unwinding under graceful live oaks. Enjoy evening musical performances by In Curses and Surcular Souls. Find treasures and necessities from artisans and crafters in our Herbal Marketplace. Take home memories and new knowledge. Special keynote speaker is the renowned herbalist Rosemary Gladstar who will inspire and enliven you, making this an event you won't want to miss or forget.  The conference is hosted by the Florida School of Holistic Living. Camping is included in registration, indoor lodging is also available.  Proceeds benefit United Plant Savers, and all participants will receive membership when they register for the conference.  Register using the code EATTHEWEEDS and receive a 20% discount off of registration.  To register, or learn more, visit www.FloridaHerbalConference.org.
♣ I Didn't Know That. Sometimes you hear interesting things where you least expect it. I attended a stuffy genealogical meeting once to endure an institutional meal in a hotel that no longer exists… somehow fitting.  The featured speaker, however, was a retired corn expert with the Department of Agriculture (a retired kernel?) He talked about the history and use of corn particularly its importance to early Europeans to North America, which the genealogists were interested in. Buried in his talk was an intriguing theory.  The theory was the Aztecs suffered a corn blight with similar effects as the Great Irish Potato Famine. Without their staple grain, as the theory goes, the Aztecs were forced to eat the local yams. Yams, specifically the Dioscorea villosa, were the first source of hormones for birth control pills. Essentially the Aztec nation when on an unintentional program of population control and never recovered as a nation from the loss. Steroids and hormones is one of the reasons why some varieties of the Air Potato, Dioscorea bulbifera, are not edible.
♣ January this year has five Mondays in it. There will be no newsletter next week… A little vacation for the author…So I can play with my new microscope…  See you February 6th.
♣ Here's my class schedule for the next two weeks. If you sign up please do so early and always check to see if there are any last minute changes or instructions:
Saturday, January 28th, Mead Garden: 1500 S. Denning Dr., Winter Park, 9 a.m.
Sunday, January 29th, Bayshore Live Oak Park, 23157 Bayshore Rd., Port Charlotte, 9 a.m.
Thursday, February, 2nd, Florida Earthskills meeting, afternoon
Friday, February, 3rd,  Florida Earthskills gathering, morning
Saturday, February 4th, Jervey Gantt Recreation Complex, 2390 SE 36th Ave., Ocala, 9 a.m.
To donate to the Green Deane Newsletter click here.