Are cattails all they're reported to be? Euell Gibbons called them the "Supermarket of the Swamp." Under cultivation it's doubtful any species produces more starch per acre than cattails, nearly 6,500 pounds. On paper cattails seem to be the perfect foraged food. Reality, however,  throws some water on that.
There is no doubt that if I needed food I would turn to the cattail. It has edible parts from the green top to the mucky bottom. And as survival instructors are fond of saying if you have cattails you have four of the five things you need to survive: Food, water, material for fire and material for shelter. All you are missing is companionship. Another plus is that cattail rhizomes are available every day of the year though you may  have to break the ice to harvest them. My disagreement is not about their edibility or usefulness but rather perspective and their position in the hierarchy of foraged food. Cattails are always placed near the top of the foraging list whereas perhaps they should be nearer the middle of the pack.
There are definitely two sides to the species. On the fast food side are edible male and female parts of the unusual flower including pollen. Then there are the inner lower stalk, stolons, and sprouts growing off the rhizome. Requiring a bit more work, the rhizomes can be roasted for the starch inside. That would get the plant a solid rating as a forageable. But then there's the slow food side, the labor-intense extraction of the starch to make a flour for various uses. I would call that the cultivated side and over emphasized.
Cattails would make a good commercial crop for the starch. It could be grown in unused swamp land and be mechanically harvested — keeping us dry. No doubt a more efficient means of starch extraction could be devised besides water-intensive settling tanks. One possibility is grinding clean dried roots to separate the stomach-irritating fiber from the starch. The rough fiber is why we just don't eat the rhizome as it is, although another issue is the cattail usually grows in mud that does not smell appetizing. Even cleaning the roots to dry them takes labor, and water.
Cattails should be on everyone's foraging list. They are significant and reliable wild food. But one has to know what you want to do with them. It is not enough to know they are edible. The "how" is very important as well as what resources you have on hand and how much time you can dedicate to the edible task. Cattails are good but not great.
While on the topic of overrated let's mention Portulaca pilosa, the Moss Rose, or Rose Moss. It gets lumped in with other Portulacas as edible but that has not been my experience.  Its relative, Purslane, is an esteemed vegetable, very nutritious and high on the list of forageables. And the genus Portulaca — while perhaps not all edible — is not considered a toxic one. That said I have not found P. pilosa forager friendly.
Every time I have tried to eat this little Portulaca it has mildly burned my throat and upset my stomach, raw or cooked. More to the point the only people who have told me they eat it — thus far — are beginning foragers. I have not heard from any experienced foragers on its edibility. This is rather frustrating in that it is a common native. Also on the questionable list of edible Portulacas are those found in garden centers that have other than yellow flowers, or have multiple blossoms or showy large yellow blossoms. A few decades ago I asked Forager Emeritus Dick Deuerling if they were edible and he said he didn't know and hadn't tried them. Neither have I. If you have, please let me know.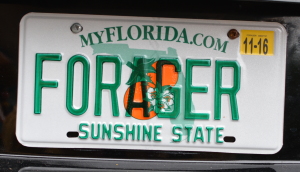 It was quite a surprise when I applied to the sunshine state to get "FORAGER" for a license plate and it was available. Delivery, however, took eight weeks. I had already worked out a bunch of bad Green Deane abbreviations for a plate… GRNDEAN… A friend suggested I try for FORAGER though we both agreed it had to have been snapped up long ago. It wasn't but it is now. 4AGER is taken as well. My motorcycle is 1LESCAR.  The only problem with such a license plate as FORAGER is you lose anonymity. A word is much easier to remember than a bunch of numbers. So I have to drive nice from now on, not irritate other drivers, keep my hand gestures to a minimum…
Upcoming classes: Saturday, January 3rd, Mead Garden: 1500 S. Denning Dr., Winter Park, FL 32789. 9 a.m.; Sunday, January 4th, John Chestnut State Park: 2200 East Lake Road, Palm Harbor, FL 34685, 9 a.m.; Saturday, January 10th, Wickham Park: 2500 Parkway Drive, Melbourne, FL 32935-2335, 9 a.m.; Sunday, January 11th, Dreher Park, 1200 Southern Blvd., West Palm Beach, 33405, 9 a.m.; Saturday, January 24th, Red Bug Slough Preserve, 5200 Beneva Road, Sarasota, FL, 34233, 9 a.m.; Sunday, January 25th, Bayshore Live Oak Park, 23000 Bayshore Rd., Port Charlotte, FL 33980, 9 a.m., meet at the parking lot at the intersection of Bayshore Road and Ganyard Street. For more information about classes click here.
Two conferences are coming up worthy of your attention. The first is the Florida Earthskills gathering in early February in Hawthorne, Florida. Held over Feb 5-8 it is an opportunity to learn, share and experience sustainable living skills. There also an early bird special if you sign up through January 1st. I have taught there for the last two years and there are virtually dozens of classes to sign up for including wild medicine, wild foods, didgeridoo making and playing, buckskin sewing, fire making, yoga, insect study, cabbage palm basketry, bow making, bird songs, atlati throwing, permaculture and a whole lot more, several somethings for everyone. To learn more about it and sign up go here.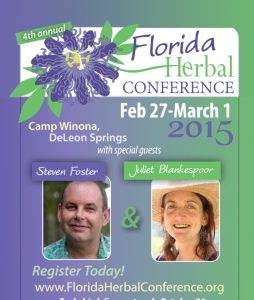 Later in February is the Florida Herbal Conference, Feb 27th – March 1st. I've taught edible plants there for the last three years and will be there again this year. In fact I plan to spend a lot of time there. Held at Camp Winoa in Deland it's a must for all southern herbalists and well as those northern ones who want to escape the cold and study their craft in the dead of winter. It always has interesting speakers and great classes. For more information and to register go here.
Eat The Weeds On DVD. My foraging videos do Dandelions and scores of other edible plants. The set has nine DVD. Each DVD has 15 videos for 135 in all. Some of these videos are of better quality than my free ones on the Internet. They are the same videos but many people like to have their own copy. I burn and compile the sets myself so if you have any issues I handle it. There are no middle foragers. And I'm working on adding a tenth DVD. To learn more about the DVDs or to order them click here.
On the Green Deane Forum we post messages and pictures about foraging all year-long. There's also a UFO page, for Unidentified Flowering Objects so plants can be identified. Recent topics include: No, They Are Not Clover. At The Preserve. Sandpaper Leaves. Comfort Food, Nice Seasonal Pots, Ginkgo Tree, Recipe Idea Needed, Flint Knapping, Squash? Hawthorn Catsup, Your Traditional Thanksgiving, Paw Paw Seeds, Dried Persimmons, Tell You Love Them, Indian Pipes, Amaranth, Mushrooms: Winter Is Here Six Weeks Early, Chicken of the Woods, Coco Plums? Acorns All Colors And Sizes, Turn On The Water, and Nanoscopy. The link to join is on the right hand side of this page.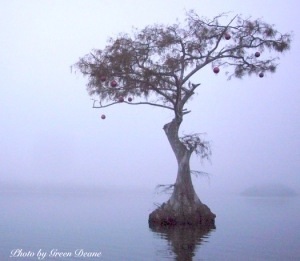 Many years ago I went kayaking on Lake Maitland, one of many sinkhole lakes here in Central Florida. It was a foggy morning, pea soup as they say. I didn't have a GPS but a compass and the occasional shoreline worked. At one point during the fog-out a large cypress appeared in the mist, with beach ball ornaments. It was a nice moment. Merry Christmas.
EDITORIAL: Coca-Cola To Make Milk:
As a long-ago TV commercial used to say, "it's not nice to fool Mother Nature." That commercial promoted margarine, which we now know was not good for us. The same might someday be said about Coca-Cola's new product, a manufactured milk called Fairlife: It's not nice to fool Mother Nature.
If you had tasked a committee with creating a milk product that maximized dietary demands it would be Fairlife. It has 50% more protein than "jug" milk, 50% more calcium, half the sugar and is lower in fat. Those are facts that make an ad executive's heart race. The protein appears to the paleo crowd, the calcium to women who have an off and ongoing tussle with that chemical. The less sugar bit responds to the diabetes epidemic whereas less saturated fat appeals to the Old Guard who are folks and organizations who make money off well-established misinformation.
Let's look at the dynamics of deception: Low-fat milk has been implicated in prostate cancer, full fat milk has not. So if I am going to drink milk it will be full fat not reduced fat. Calcium supplements don't translate into the calcium being well-used by the body. Fairlife is a calcium supplement in liquid form and there's no word on exactly what chemical form that calcium takes. Also calcium supplements increase the threat of prostate cancer. So I don't want any milk I drink upping the calcium, whatever form it is in. There's a trustable range and increasing the calcium in milk just might cause more disease not less. I also note that what sometimes threatens the prostate threatens the breast. Reducing the sugar — lactose — means I can't use Fairlife to make my own yogurt but all in all reducing the sugar might not be bad even from just the tolerance point of view. Got to give Fairlife one positive point for that.  However, reduction in sugar will affect taste. Such taste changes usually have to be accommodated. When you alter a well-known food usually things have to be done to the new product to make it passable in taste and texture to the old product. Many times a lot things you can't pronounce are added. If a nutrition label reads like a chemistry set I got in the third grade I don't consume it.
As for cows and protein …. I lift weights and follow a paleo lifestyle. I am not opposed to protein or dairy. But I prefer to get my milk as close to the pastured cow as possible which includes a good transfat called CLA as well as protein from non-GMO foods. And while pasteurization as an issue does not bother me per se Fairlife is ultra-pasteurized to give it a much longer shelf life. Read even bacteria won't eat it for a while. What chemicals might be leached into the milk from the container while it is so safely sitting on the long-storage shelf? What reactions might happen? Local milk does not have a long shelf live because it is — in comparison — alive. There's not much time for container leaching to happen. I agree we need to eat less things kept in plastic but I am not sure local milk is high on the danger lists plastic-wise.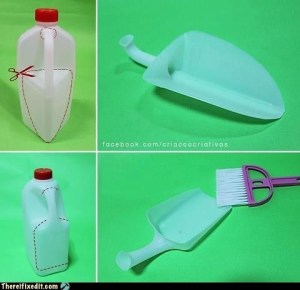 And about those containers:  I would ask is what's wrong with "jug" milk as a Coca-Cola executive despairingly called how we now buy milk. The answer is, from Coke's point of view, that "jug" milk is too fragmented, too diverse, and produced by too many regional dairy operations. Putting it under one brand means reducing cost and more profit "raining money" as the Coke executive said. It also means driving small dairies out of business. So much for local milk. There's nothing wrong with "jug" milk per se except Coke can't make a profit off it as milk is now produced and distributed (and don't forget another element driving Fairlife is Coke's dwindling share of the soda market. Profits down 14% recently.)
Another question to ask is does remaking milk into different percentages affect its safety as a food? Does changing the percentages of protein, calcium, sugar and fat reduce or remove any healthful benefits of milk? Fairlife probably comes with vitamin D added which might not a bad  except vitamin D and calcium need to be in a balance for optimum health benefits. Coke is not going to test if different balances are bad — nor will the government require it — because it would take too long and be too expensive. Fairlife will be considered generally safe for consumption and come with the comforting phrase "trust us."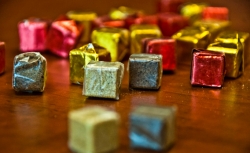 (As an aside it makes one wonder what if Coke decided to improve the Brazil Nut. First it would probably be square because that fits packaging better, and have no shell which is a waste of materials but will be wrapped in plastic for better storage. And it probably would be just light colored to save on those healthy pigment. Of the dozens of chemicals inside they would probably up the selenium count because that is a darling chemical at the moment. And they would reduce the saturated fat content because the new nut would have to get past the Old Guard Medical Establishment even when they are wrong. Adding a flounder gene would add to its shelf life — cold storage — and since flounders are alive the new nut would be "natural." It would also need a new name in that Brazil is too specific… call it World Cube or Cube Food or Great Nuts et cetera …)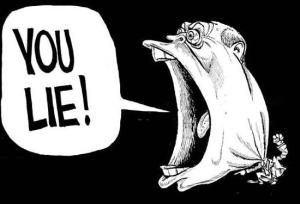 It is curious that at a time when there is a strong push for local food and more raw milk (you can now buy said in vending machines all over Europe), Coke is trying to consolidate the dairy industry and provide a non-local super manipulated ultra-pasteurized product. That is not being done out of any concern for our health. And because Coke and allies raise the genetically modified crops that are used to feed their non-pastured anti-biotic bloated feed-lot cows Fairlife is called natural, grass to glass. Distortions like that are not acceptable.
So there you have it: By Coke's account Fairlife is new, improved, more of what you want, healthy, nutritious, "natural"  and judging by the planned ad campaign, sexy. I am very suspicious of the chemist in the kitchen. There's not a good track record there from transfats to food additives to dyes. Fairlife might indeed be a good product, and at a good price. But I will not be a new and improved food guinea pig again. Personally I'm going to support the local cow not Coke.
 If you would like to donate to Eat The Weeds please click here