The flavor of Tulips bulbs depend on how hungry you are, and whether you have prepared them correctly.  If you have an excess of untreated Tulip bulbs they can be made into a life-sustaining meal or a trip to the hospital. Similar to an onion the outer layer is removed and the small proto-tulip in the center of the bulb has to be removed. The remaining material can be then processed in a variety of ways, from just boiling to dying, to grinding  and adding to flour for baking. The petals are edible as well. To read an interesting bit of history about Tulips click here.
It was a mustard weekend. A class in Ocala turned up several common winter greens (chickweed and henbit) along with five mustard members. First we saw and tasted Shepherd's Purse, a very mild, seasonal little mustard. I have not seen further south than the Ocala area. Less common at the park we were exploring but in general more wide-spread was Poor Man's Peppergrass, or Virginia Pepper Grass. It's a much more "wasabi" tasting mustard and available all year but it prefers the spring and early summer. One surprise find was Swinecress, a micro-mustard usually found in lawns and only during the colder months. Its seeding arrangement is a clear characteristic for identification. Also at the park were a few related Bittercress with their tooth-pick like seeds pods. Of all the little mustards Bittercress is found about nine months out of the year, in the warmer weather in damp spots. After class while driving home I noticed — if that is the correct verb — a field of wild radishes. They look similar to full-blown mustards and are used the same way. Growth habit, seeds pods, and veins of the blossom petals help to separate them from the mustards. Don't forget the root is also edible one you remove its tough jacket.
Where have all the Dandelions gone? If you're in a northern clime they are waiting for spring and summer. Locally they're found in acidic soil. Life is precarious for a Dandelion hereabouts. They do not like our hot summers so Dandelions go through their life cycle in our winter. You start to find small ones around Christmas. Now they have large basal rosettes and are sending up blossoms. It's a short-lived success because the nights can also be close to freezing. Dandelions will soon be out of season for another nine months or so. To find them you have to first identify acidic soil. Limestone is the base material here so you have to look for Dandelions in the soil has been amended on the acidic side, such as under pines, oaks or cypress.  To read more about Dandelions, click here.
There is a tiny edible that doesn't get much coverage probably because it is small and it not greatly flavorful a famine food. This is the Doveweed, or Murdannia nudiflora. It is often found with its relatives the Asiatic Day Flower and Spiderworts. This is a small plant, not usually seen while standing up. When you are on your knees looking for something else is when you will find it. Locally I locate it in slightly damp locations and in semi- shade. To read more about the Doveweed go here.
If you haven't already you should register for and plan to attend the fifth annual Florida Herbal Conference in Lake Wales. You can even take a side trip and see the famous Bok Tower and Gardens. Organized by Emily Ruff, she has an all-star herbal cast lined up to teach and present. Speakers this year include world-renowned mushroom expert Paul Stamets and herbalist Kathleen Maier, director of Sacred Plant Traditions in Charlottesville, Virginia. Even yours truly will be there for his fifth year teaching wild edibles. Workshops focus on bioregional, earth-centered herbalism, with topics including clinical herbalism, herbal crafts, herbal tradition and history, medicine making, plant identification walks and many hands-on demonstrations. The weekend also includes a marketplace of herbal vendors, musical activities each evening, fun herbal activities during free time, guided movement activities throughout the weekend, a powerful fire circle, and regional mixers. You need to be there. For more information click here.
Foraging Classes: The group classes are usually about four hours long and involve walking along paths and trails and finding wild edibles to talk about. Most locations have drinking fountains and bathrooms. One should dress for the weather. Children accompanied by an adult are welcomed.  This coming week's class is in Sarasota. To learn more about foraging classes go here.
Sunday, Feb. 7th, Red Bug Slough Preserve, 5200 Beneva Road, Sarasota, FL, 9 a.m.
Sunday, Feb. 14, Mead Garden,1500 S. Denning Dr., Winter Park, FL, 9 a.m.
Sunday, March 6th, Florida State College, south campus, 11901 Beach Blvd., Jacksonville, 9 a.m.
Sunday, March 13th, Mead Garden, 1500 S. Denning Dr., Winter Park, FL, 9 a.m.
Saturday, March 19, Colby-Alderman Park: 1099 Massachusetts Street, Cassadaga, 9 a.m.
Saturday, March 26th, Dreher Park, 1200 Southern Blvd., West Palm Beach, 9 a.m.
Sunday, April 3rd, John Chestnut County Park: 2200 East Lake Road, Palm Harbor, FL, 9 a.m.
Sunday, April 10th, Wekiva State Park, 1800 Wekiwa Circle, Apopka, Florida 32712. 9 a.m.
Sunday, April 17th, Bayshore Live Oak Park, 2200 East Lake Road, Port Charlotte, FL. 9 a.m.
Sunday, April 24th, Wickham Park: 2500 Parkway Drive, Melbourne, FL 9 a.m.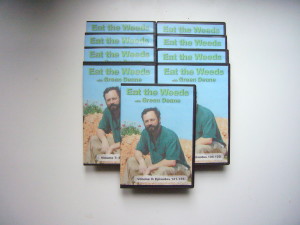 All of Green Deane's videos are available for free on You Tube. They do have ads on them so every time you watch a Green Deane video I get a quarter of one cent. Four views, one cent. Not exactly a large money-maker but it helps pays for the newsletter. If you want to see the videos without ads and some in lightly better quality you can order the DVD set. It is nine DVDs with 15 videos on each. Many people want their own copy of the videos or they have a slow service and its easier to order then to watch them on-line. They make a good gift for that forager you know. Individual videos can also be ordered. You can order them by clicking on the button on the top right of this page or you can go here. 
Many of you have taken the advantage of getting some nearly free mustards seeds from me. As some of you know I am also a gardener. I ordered a few mustard seeds. Somewhere between the ordering and the shipping I ended up with a pound of Osaka Purple Mustard seeds. I have thousands of mustard seeds when I wanted about 30. Thus I have been giving them away in classes and the mail so they will not go to waste. If you want some to grow send me a self-addressed stamped envelope and I will send you some seeds. They will be affixed to tape in a coin envelope so to not exceed a first-class envelope in weight and thickness. The seeds rub off the tape easily. Mail the SASE to Green Deane, POB 941793, Maitland FL. 32794.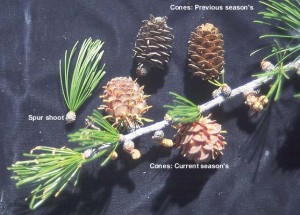 "Did you ever eat a larch?" was the subject of this recent post on the Green Deane Forum (the button to join the forum is on the right hand side of this page.) Euell Gibbons got a lot of mileage from asking "did you ever eat a pine tree?" But what of the larch? There was a stand of them — a Larchhurst — about 300 feet from the front door where I grew up. One of the first things I noticed was it was a conifer that was not evergreen. It loses its "needles" in the winter. And local folks didn't call it Larch. It was a "hatmatack" or "tamarack." These trees can live 700 years, or so the experts say. The sap is edible and the inner bark in spring. Young shoots were cooked as vegetables. Lumps of sap were also chewed like gum. The dried sap was used like baking powder. These things I did not know when I was young though I did know it did not size up well for the wood stove. We heated and cooked with wood and my job (besides feed five horses every day and haying) was chopping wood, cord after cord of wood. I AM dangerous with an ax.  What caught my interest in the larch recently is arabinogalactan. I won't even try to figure out how that is said. Perhaps a chemist can help.
What is arabinogalactan, or specifically Larch arabinogalactan? In two words, dietary fiber. Maybe the first inhabitants were onto something. It's a ploysaccharide that increases the production of short-chain fatty acids in the lower gut, principally butyrate and propionate. This is from the increased number of friendly anaerobes such as Bifidobacteria and Lactobacillus. The ultimate point of arabonogalactan is to improve your health. How? According to one study it: "…can stimulate natural killer (NK) cell cytotoxicity, enhance other functional aspects of the immune system, and inhibit the metastasis of tumor cells to the liver." See? There are good reasons to eat a tree.
This is weekly issue 194.
If you would like to donate to Eat The Weeds please click here.