As you can tell the new Eat The Weeds website is partially up because you got this newsletter. It is still far from functioning well. Indeed, even finding a way to change the font size on photos seems to be a significant WordPress secret (all the fixes so far havent't worked. Sorry about that.) The archive page is not working but the search function is getting better. The Forum went down the moment the new site went up and the DVD button is not working among other bugs… but we will get to them in time and I hope to crowd fund the cost of the update. It is the first facelift the site has had in almost a dozen years. Those fence boards are going, too. Never did like them. As for wild edibles…
While mushrooms have been a minor side of Eat The Weeds one species is coming into season that you might want to identify. I totally understand any hesitation about eating wild mushrooms. It took me almost four years of study before I was brave enough to try one.  Part of that is Americans inheriting the British phobia about wild mushrooms whereas in Europe attitudes are different. Mushrooms we would call "oily" Europeans call "buttery." Besides their complexity another issue is transience. I can study an oak tree hours every day for a year. Many mushrooms are in season only for a short time so it can be difficult studying them. We have just about passed out of chanterelle season for the year but are in the midst of Ringless Honey Mushrooms. They have been popping up for weeks in the Central Atlantic states. In north Florida they're ending their season. I saw some in Deland two weeks ago. I usually find them in the Orlando area the first to second week of November. While you can find Ringless Honey Mushrooms any month of the year they do favor the fall. (I once found them growing on a Banyan in West Palm Beach in July!)
Most language about mushroom — "mycolese" — can be dispensed with. There's really no reason to call a stem a stipe et cetera. But some words are handy and one is cespitose. It means all growing from one point (think of a big bouquet coming out of a small vase.) Ringless Honey Mushrooms are cespitose. They also always grow on wood (like a tree, stump or buried root.) They do not have a ring around the stem under the cap, and Ringless Honey Mushrooms drop a white spore print. That is critical. It is, among other things, how you make sure they are not any of similar toxic mushrooms. The others drop rusty to purple spore prints. Opinions on the edibility of Honeys vary. I cook young caps about twice as long as usual and find them very tasty. Some folks parboil them first then cook them. Experts rate Honeys from "not edible" to "choice." You can read more about Ringless Honey Mushrooms here.
FORAGING CLASSES: Now that most of the hurricane season has passed, including clean up, we are moving into some prime foraging time before our not-so-cold winter moves in a couple of months from now. Classes this weekend include Sarasota's Red Bug Slough, an interesting place that is changing as they de-brush it. We also usually wander for a while in the local neighborhoods that have several edible native and ornamentals planted.  Then Sunday is at Blanchard Park in Orlando. The park follows the Little Econ river providing quite a few water plants of interest.
Saturday, October 21st, Red Bug Slough Preserve, 5200 Beneva Road, Sarasota, FL, 34233. 9 a.m. Meet at the play set by the parking lot.
Sunday October 22nd, Blanchard Park, 10501 Jay Blanchard Trail, Orlando, FL 32817. 9 a.m. Meet by the tennis courts near the WMCA building.
Saturday, October 28th, Wickham Park. 2500 Parkway Drive, Melbourne, Fl. 9 a.m. Meet at the "dog park"inside the park
Sunday, October 29th, Bayshore Park, Bayshore Drive, Port Charlotte, 9 a.m. Meet at the parking lot at the intersection of Bayshore Road and Ganyard Street.
Saturday, November 4th,  Blanchard Park, 10501 Jay Blanchard Trail, Orlando, FL 32817. 9 a.m. Meet by the tennis courts near the WMCA building.>
To learn more about the classes go here. 
Brought to my attention before the site went down was issue over the edibility of the Creeping Fig. A Forum member, Josey, quite knowledgeable, thinks the Creeping Fig we have locally might not be the one used to make "Grass Jelly."  This fig has alway vexed me some in that I rarely got much to eat off it and Josey might have an answer: There is a Lowland Variety and an Highland Variety. He writes:
"Has anybody successfully made the jelly from the seeds?  I tried this two years ago with some creeping fig I found in Florida and had no success.   I came to the conclusion that only the mountain variety, Ficus pumila var. awkeotsang works particuarly well for that purpose.  The lowland variety planted in Florida is different. I don't think variety awkeotsang is to be found anywhere in North America. This is further complicated by the fact that the plants here don't produce viable seeds because North America doesn't have the right kind of pollinators.  It is the seed that is responsible for forming the aiyu jelly of East Asia.  Different fig species require different agaonid wasp species unique to them for pollination.  Because Florida doesn't have the pollinating wasps from Southeast Asia that are unique to Ficus pumila, the plants never produce viable seed.  Thus the species can spread only by vegetative means. For this reason, I'm somewhat skeptical that the jelly could be made here even if one had the correct mountain variety.  There is supposedly a way to cook the seeds of the lowland variety into a different sort of jelly (not aiyu jelly), but that didn't work for me.  This is likely because there are no viable seeds in the fruit of the Florida grown plants.  If anyone has successfully made jelly, then perhaps it is possible for non-viable empty seeds to still form jelly.  I am curious to know if this is possible."
I am curious as well. I will try some cooking 'cause squeeze the fruit was only barely productive. You can read my article on the Creeping Fig here but note it might have to be updated.
Also fruiting now are Cereus cactus. Kind of like grapes, Cereus are fairly easy to identify but exactly what species is a challenge. Frankly it is a challenge one does not have to accept. Most Cereus cactus, except perhaps the commercial "Dragon Fruit" are shaped like small pink footballs, about four inches long.  They are attached rather strongly so nippers or the like are best to cut them off.  The best thing to do is toss them in the refrigerator for a while then cut them open like two little boats. The white flesh has the texture of overripe watermelon. The black seeds are soft and edible (unlike most cactus seeds which are extremely hard.) The cactus themselves are called "candle" cactus as they are usually but not always an unbranching trunk. They are also called Peruvian Cactus. The headache associated with species identification is there are a lot of "fake" species names made up by sellers.  Another problem that can make cactus  tough plants to ID is having to resort to counting spines and length.  You can read more about them here.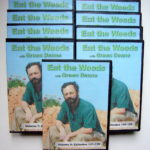 All of Green Deane's videos available for free on You Tube. They do have ads on them so every time you watch a Green Deane video I get a quarter of one cent. Four views, one cent. Not exactly a large money-maker but it helps pays for this newsletter. If you want to see the videos without ads and some in slightly better quality you can order the DVD set. It is nine DVDs with 15 videos on each.  Many people want their own copy of the videos or they have a slow service and its easier to order then to watch them on-line. They make a good gift for that forager you know. Individual DVDs can also be ordered. You can order them by clicking on the button on the top right of this page or if it is not working yet you can go here.
Want to identify a plant? Looking for a foraging reference? Do you have a UFO, an Unidentified Flowering Object you want identified? On the Green Deane Forum we chat about foraging all year. And it's not just about warm-weather plants or just North American flora. Many nations around the world share common weeds so there's a lot to talk about. There's also more than weeds. The reference section has information for foraging around the world. There are also articles on food preservation, and forgotten skills from making bows to fermenting food. One special section is "From the Frightening Mail Bag" where we learn from people who eat first then ask questions later. You can join the forum by clicking on the button on the upper right hand side of this page.
This is issue 274.
If you would like to donate to Eat The Weeds please click here.