How do you find wild edibles? It's a combination of things but getting the plant inside your head is definitely paramount. Once you do it will stand out in a crowd of plants just like your friend's face will in a photo of a lot of people. The color of a plant or fruit might catch your eye, too. That's how I found my first Natal Plum by wondering what the bright red fruit was. Another clue with some species is outline. This is often common with trees. It is also the case of the Latex Strangler Vine, above. Outline. While I was wandering around the place mentioned below with the Dandelions entry I glanced at a nondescript shrub — a Baccharis — and saw an outline that can only be the latex vine, a prime edible but not this time of year. However this is a good time to collect the seeds to plant … ah… no… ah…. to destroy it because it is an invasive species. (That keeps me from getting Native Plant Society hate mail. I already get turtle lovers' hate mail.) The vine's growth and fruit give it a distinct look. You really don't have to search for the plant. The Latex Strangle Vine yells "here I am!" To read more about it go here.
Sometimes opinions have to be revised. For a long time I have said Dandelions don't like Florida. I rarely find them, and then only a few, just one or two scraggly things. They are so uncommon in my experience that I can remember with clarity all of the places I have seen them over the years here. That view has to change.
A new road near here skirts a large chunk of defunct property. As I drove by I noted some plants that looked eligible for the weekly "What Do You See" photo below. I went back to find a fantastic array of edible weeds and among them huge Dandelions; hundreds if not thousands of them. I saw more Dandelions in one visit there than I have collectively in over 30 years in Florida. The big botanical question is why, and the lesser question is why was the ground so uneven and there a lot of dry ponds? I can answer both: It's an abandoned golf course. That means the original turf could have been brought in from somewhere else. Another possibility is the property does not get enough rain to support a green but it hasn't been discarded long enough to have many trees. Perhaps Dandelions thrive there. Not only will I be going back for some Dandelion greens but roots as well… and revive my Florida Dandelion opinion. If you live locally and want to know where this property is email me. You can read more about Dandelions here. 
A related foraging conumdrum is False Dandelions, in this case Pyrrhopappus carolinianus, but also common is Hypochaeris radicata. They can sometimes look close to the real thing. I saw a couple this past weekend in Jacksonville, one that leaned heavily towards Dandelion and one that leaned towards False. At a quick glance the False Dandelion usually has skinnier leaves, lighter yellow  petals (rays) and have, when look from directly above, black specks which are missing on real dandelions. You can read about several species of False Dandelions here.

This week brought the continuing insanity of seasonal time change. There's an editorial about said over on the left side of this page.  I prefer Standard time (that we just left) to Daylight Savings Time which you are now on. I say you because I stopped flip-flopping years ago. I stay on Standard Time. I am not so much against Daylight Savings Time time as I am the change twice year. Pick a time and stay with it. I got the time and direction gene. Time change — like time zone travel — really ruins me for a long time. It takes me months to adjust.  So I don't change. I don't change my clocks. I go to bed and get up at the same time. The Beasts About The Bungalow get fed at the same time. I just keep in mind that when I have to interact with the outside world it thinks it's an hour ahead of me until the fall, when sanity returns. Even when I was involved with corporate America I did not change time. I just went to work an hour earlier, that's all. And I stopped watching television regularly in 1977 so that's never been a chronomatic problem. If we refuse to change time this now-costly mistake will go away, in time…
What do You See? #06 has three edibles in it… well, one for certain, two by some tastes, and three stretching it a bit.
What Do You See? #05. Below: Number one is spiny sow thistle.  Number 2 is swinecress. There are several Swinecress so it might not be the exact same species you have locally. Three is Spanish Needles. Four was also in last week's photo, a wild geranium.  Number 5 is a bit of a mystery. It is some member of the mustard menagerie. I have looked at the blossom under 30x and it is a mustard member. But which one is elusive. As it is in the greater mustard group it is edible even though I don't know exactly what it is.
http://www.eattheweeds.com/sonchus-sow-thistle-in-a-pigs-eye-2/
http://www.eattheweeds.com/coronopus-didymussquamatus-smelly-pot-herbs-2/
http://www.eattheweeds.com/spanish-needles-pitchfork-weed/
http://www.eattheweeds.com/erodium-circutarium-geranium-carolinianum-two-bills-you-want-to-get-2/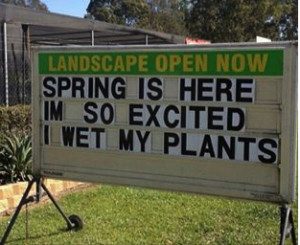 Barring any severe change in the botanical continuum spring species will be up soon where you live.  Locally it is nearly here now. Our average last frost date is Valentine's Day. The last local frost on record is April 29th. There is a full moon at the end of the month, which is usually our last cold blast of the season. We are, as they say, on the cusp between winter and spring. Our true winter species are fading fast (Chickweed and Nettles.) Our spring greens are in full force (Sow Thistle and Rumex.) There's even a hint of summer. My Sunday foraging class got to see a Wild Cucumber.
Upcoming foraging classes: You will see that Haul Over Canal has made the schedule. We get there once or twice a year. It's the most inhospitable site I visit. No drinking water. No bathroom to speak of. And the federal authorities can close it any time they want. Still, it is an interesting site and we do a lot of walking there. The following week is Lake Woodruff National Wildlife Refuge. It is a similar story there: A lot of walking and no facilities. But they are both good places to visit now and then. This weekend I am in New Port Richey and Sarasota.
Saturday, March 15th, John Chestnut Park,  2200 East Lake Road, Palm Harbor, FL 34685. 9 a.m.
March 16th, Red Bug Slough Preserve, 5200 Beneva Road,  Sarasota, FL, 34233. 9 a.m.
Saturday, March 22nd, Dreher Park, 1200 Southern Blvd.,  West Palm Beach, FL.,  33405. 9 a.m.
Sunday March 23rd, Bayshore Live Oak Park, 23000 Bayshore Rd., Port Charlotte, FL 33980, 9 a.m.
Saturday, March 29th, Haulover Canal, Merritt Island National Refuge, 9 a.m. See details below.
Sunday, March 30th,  Mead Garden,  1500 S. Denning Dr., Winter Park, FL 32789, 9 a.m.
Saturday, April 5th, Lake Woodruff National Wildlife Refuge, 2045 Mud Lake Road,  DeLeon Springs, FL 9 a.m.
Though your foraging may drop off during the winter it's a great time to study wild edibles with my nine DVD set. Each DVD has 15 videos for 135 in all. They make a great gift. Order today. Some of these videos are of better quality than my free ones on the Internet. They are the same videos but many people like to have their own copy. I burn and compile the sets myself so if you have any issues I handle them personally. There are no middle foragers. And I'm working on adding a tenth DVD.  To learn more about the DVDs or to order them click here.  
If you have a short article about preparing or consuming edible wild plants you want considered for the newsletter please send them to Green Deane via the newsletter email address.