Fellow Mainer H.W. Longfellow never wrote "under the spreading Pachira tree the village smithy stands." That well-known poem says "chestnut tree" once common but now rare in North America because of an imported disease. The Tropical Chestnut tree, however, still stands, where it is warm.
Last week the Tropical Chestnut tree in Dreher Park, West Palm Beach, was putting on part of a show. Still leafless its frilly pink blossoms were raining from the bare limbs. The Pachira aquatica is not the only tree to dress up in springtime blossoms without leaves. The edible Eastern Redbud does as well though its blossoms are small, the size of a fingernail. Quite a few plums also blossom out in white before setting on leaves.
Restricted to Florida, the gulf coast, and southern California, the Tropical Chestnut tree has edible seeds — raw or cooked — and edible leaves and blossoms cooked. For such a huge tree it took me a while to identify the Pachia aquatica because I was in the area irregularly so never got to catch it at a particular good time to identify it. As for the Redbud, its blossoms are edlible raw or cooked as are the young pea pods it produces. Young leave can be eaten cooked, too. To read more about the Tropical Chestnut go here, the Eastern Redbud here.
Across the country in parts of California Miner' Lettuce is making its spring run and will be blooming through May. Dry, summer heat ends its season.  This delectable comes from a family of other edibles — Claytonia — and was once lumped in with the purslane group. It doesn't naturally get anywhere near Florida. The most distinctive feature of the Miner's Lettuce is the leaf structure. Shaped like a saucer or cup the flower stalk pushes through the middle of the upper leaf. Difficult to mis-identify. It's a resident of western North America with token populations in Georgia and northern New Hampshire. I have been unable to find any reference to it growing in Georgia in modern times. Miner's Lettuce — which is high in vitamin C — is particularly common along the Pacific coast in shady spots and canyons. Its name comes from 1849 Gold Rush miners who ate it to stave off scurvy.
Foraging Classes: My class schedule for the next two months is up. Here's the next two weeks:
Saturday, April 5th, Lake Woodruff National Wildlife Refuge, 2045 Mud Lake Road,  DeLeon Springs, FL 9 a.m.
Saturday, April 12th, Florida State College,  south campus, 11901 Beach Blvd.,  Jacksonville, 32246 9 a.m.
Sunday, April 13th, Wickham Park: 2500 Parkway Drive,   Melbourne, FL  32935-2335,  9 a.m.
Saturday, April 19th, Boulware Springs Park, 3420 SE 15th St.  Gainesville, FL 9 a.m.
Sunday, April 20th, Jervey Gantt Recreation Complex, 2390 SE 36th Ave.,  Ocala, FL 9 a.m.
Below is What Do You See 09 with at least two wild edibles. Can you find and name them? The answer is  on the Green Deane Forum and will be published here next week. 
And below is the answer to last weeks What Do You See 08.
WDYS08 is on the easy side… kind of…. Number one is a Pawpaw, Asimina,  Number two is a Smilax… ah… but which pawpaw and which smilax? Hint: The picture was taken in Hardee. The pawpaws are easy to spot right now while driving past pastures. They're two to four or five feet high, white ways blossoms similar to magnolias.
http://www.eattheweeds.com/pawpawpanache-2/
http://www.eattheweeds.com/smilax-a-brier-and-thats-no-bull/
Book Review: Those who claim to know say love is better the second time around and that is so with the second edition of Christopher Nyerges' Guide To Wild Foods and Useful Plants, Chicago Review Press, 2014, ISBN 978-1-61374-698-1 (If you click on the link, scroll to near the bottom.)
One's first impression of the second edition is that it is heavy. In fact it weighs 1-1/4 pounds, or around 577 grams. The original was 3/4 of a pound, 352 grams. Making up that half-pound difference is 100 more pages and sturdier stock.  This is a book that will weather a lot of field used and take a beating in your back pack. While the content is mostly the same adding to the length is a less dense layout and more photographs.
One of the stinging criticism of the first edition was that it had (in 1999) black and white photos. This had to hurt because one can see by the second edition that many of the original photos were in color but got published in black and white. That might have been an editorial decision out of Nyerges' hands. As a published author I, too, have had to defend publishing decision that were not mine to make. 
When it comes to illustrations there's plenty of damnation to go around regardless what one uses. It's a foraging issue that will probably never be resolved. Beginners want huge amounts of color photos so they can magically identify every plant in the field instantly. They harbor an assumption that if they just have a lot of really great photos they can get it the ID right, safely, and with a minimal amount of effort. They want shortcuts where there are none.
Photos — even excellent ones — are deceptive frosting. Experienced foragers know photos can be very misleading. Identification is a learned skill. I personally favor high quality botanical drawings. I know one teacher who has her students actually draw the plants they are studying even if they can't draw. The point is to get the critical identification characteristics inside the student's head. It's the difference between knowing a plant vs comparing a plant to a photo. Thus each teacher cum book writer has to face the tough decision as to what medium to use for illustrations and to what extent. This, however, might be transitioning into the realm of a moot point. The student forager — perhaps unwisely — can now find dozens if not hundreds of photographs of a specific plant on the Internet. That instant ability is also now appearing the field.  And as debatably good as that (and recognition software) might be it is no substitute for learning the plants. Nyerges' guide is full of experience and technique which is really the heart of the book, its raison d'être, and far more important than photos. He also brings the refinement that teaching produces, itself a distillation of knowledge. If it were not for foraging students it would have never crossed my mind that anyone would confuse the edible elderberry with the deadly water hemlock. But experience has taught me they do and that I must teach the differences.
The method Nyerges used 15 years ago to get the new forager up to speed is still in the second edition, only slightly rearranged. It's leaf and seed illustrations, drawings where shape is often more important than confusing detail. The illustrations are not intended to be a complete reference but rather a general compass helping the reader at least pick a botanical direction to go in. The problem with any field guide is that it cannot be exhaustive nor answer all the possible questions that can be asked. One has to stop somewhere and no matter where that somewhere is it will always disappoint someone and they will complain. The best one can do is use one's professional judgment as to how much and how far. Nyerges has done that.
Photos aside, a more significant criticism of the first edition has been corrected. The second edition has an index, the first did not.  It also has a table of content that clearly marks which plants are toxic as does the text. The first edition was weak on that. There has also been the correction of inevitable minor errors that cause no harm but irritate the author and knowledgable readers. Again included in the second edition is a helpful glossary and bibliography. There is an appendix of generally safe plant families, an appendix essay by Dolores Lynn Nyerges on "why eat wild food" and a refreshingly better-than-to-be-expected-for-an-actor introduction by Ed Begley Jr., no slouch when it comes to the environment.  
One thing Pasadena native Nyerges can expect is that critics will say his book tilts towards California, or certainly the Pacific Cost. I've heard a similar comment before. People assume that since I'm based in Florida all 1,000-plus plants on my EatTheWeeds website are about Florida or the Gulf Coast. They are not. While there is a shadow of truth in the general assertion it is only a shadow. The vast majority of plants in Nyerges' book, like the plants on my site, are not region specific. There is a sprinkling of local species, like spice upon the main course, but the guide is not just about west-of-the-Rockies species. That said I can't imagine being a serious forager on the west coast of North America and not owning this book.
It is a curious fact that in the field of foraging for wild food one rarely encounters any botanists. There is a smattering, of course, and a professor here and there but amongst foraging teachers the majority are definitely non-botanists. Reflecting that perhaps is the curious choice by the editors of the field guide to not follow the traditional rule of italicizing the scientific names of plants. It has been a fundamental element of the profession like proper punctuation for English teachers.  The genesis of that could be the absence of botanists in the foraging field, or, that as a group botanists are so ineffectual and estranged from edible wild plants that there is little harm in offending them. (One also notes very few English teachers actually become well-known writers.)
I am often asked, as a writer and foraging teacher, why don't I put together a book about foraging. There are several answers. One is my website. Two is that I've had two books published on a different topic so I don't have the publishing bug. I also know how a product can be fundamentally changed by a publisher meaning I been there, suffered that, don't need to do it again. I've also had thousands of articles published so seeing my name in print doesn't thrill me (or my mother) anymore.  But most importantly one answer is there are several excellent foraging books on the market now. They have set the bar mighty high. They are a hard act to follow. Nyerges' guide is one of those. (If you click on this link scroll to near the bottom to find the book.)
Though your foraging may drop off during the winter it's a great time to study wild edibles with my nine DVD set. Each DVD has 15 videos for 135 in all. They make a great gift. Order today. Some of these videos are of better quality than my free ones on the Internet. They are the same videos but many people like to have their own copy. I burn and compile the sets myself so if you have any issues I handle them personally. There are no middle foragers. And I'm working on adding a tenth DVD.  To learn more about the DVDs or to order them click here.   
As this is April 1st and there are five Tuesdays in April there will be no newsletter April 29th. Oh, and speaking of love the second time around I've been dating a widow 13 years my junior. We don't see eye-to-eye on everything, I'm low-carb and wild plants, she high carb and fancy restaurants even though her husband Ken died after a by-pass operation. But it's her birthday so I said I would include her picture in my newsletter.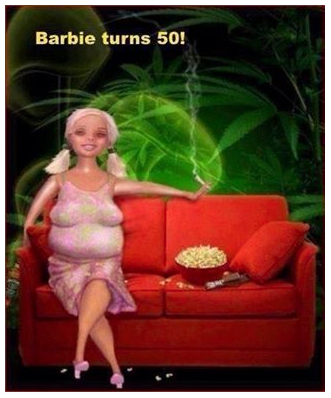 To donate to the Green Deane Newsletter click here.