Someone once joked I remember the location of every plant I've ever talked about. I'm not sure that is completely true but I do recall four (almost) unique encounters.
In Jacksonville there is an Osage Orange tree. I had heard for many years there was one in Gainesville but no one knew where. And they weren't native to New England where I grew up. They are solid mid-westerners and a common site to those who live in the middle of the country. I do believe my website was the second on earth to report the seeds as edible. Everyone reported them as poisonous except for one state naturalist. And for a long time only we reported the seeds edible. The fruit was reported as toxic for two reasons. One, it was used to keep insects out of houses. And secondly because of the size farm animals would choke on the fruit. Long prized for its wood, the Osage Orange is as good if not better than yew for making bows. The one in Jacksonville is on Euclid Street. I even found it once on Goggle Earth (after having visited it in person after a class there. )  To read more about the Osage Orange go here.
The first Ginkgo tree to make an impression on me was at the (then) University of Maine in Gorham (about 20 miles west of Portland.) Actually a pair, they were in front of Bailey Hall. As I had always associated Ginkgos with southeast Asia I was surprised to find them alive in frigid Maine. Current images on the internet do not show that entrance to the hall so I can't report if the trees  are still there some 43 years later. However a Google Earth view suggests they still are. The classroom hall was named after the college's president whose arthritic wife, Nina, I had to take piano lessons from for two years and pass a proficiency (I am also one of the few men you know who passed a Gregg shorthand proficiency. I still have my shorthand dictionary and take notes in shorthand!)  Anyway… The Ginkgos, I recall, were male trees in that they never fruited during my three years there. (I managed to graduate a year early.) I had lived in Japan a few years before that where intentional Ginkgos are far more common. It was the out-of-placeness that caught my eye in Maine. The problem with Ginkgo seeds is they smell and have to be prepared correctly for consumption. Even then some writers pen stern warnings about eating them. These days usually male Ginkgo trees are planted to avoid the smell and mess of the female tree. However, one city that has a lot of them for harvesting is New York City. To read more about Ginkgo go here.
A fruiting cashew tree has been my latest unique find. And truth be known it was a student in one of my West Palm Beach classes who said there was a cashew tree nearby did we want to take a look at it? Absolutely. Only a block east of the park in a residential area, it was mature and fruiting at the end of October. Cashew tress belong to a rather toxic group of trees, all closely related: Poison Ivy, Poison Sumac, Mangos, Brazilian Pepper, Pistachios, and Cashews. While the cashew "apple" and roasted seed are edible the shell liquid is extremely toxic. Mother Nature does not want you eating those seeds and protects them mightily. Not surprisingly the tree itself looked mango-ish. In fact, not a half a mile north of the Cashew tree there is a mango orchard. Many people get a poison ivy like rash from touching mango peelings. They can, however, usually eat the fruit if someone else peels it. Something like the Ginkgo tree, if you don't  clean up after the Cashew it can leave a lot of toxic litter.
Another fruiting tree that I have seen only one of is the very common Pineapple Guava. I say it is very common because it was a shrub that was championed by landscapers for decades. Perhaps no fruiting tree has been so recommended.  The blossoms are edible as are the fruit. The distinctive green fruit stays green as it ripens. It just grows softer and does have a hint of pineapple. I suspect the invasiveness of a relative, the Strawberry Guava, has something to do with the failure of the Pineapple Guava to catch on. That species is a problem plant in warm but well-fed areas.  In its native Brazil the fruit is used for pies, cakes, puddings, jams, jellies, ice cream, mousses. The blossoms are added to salads or eaten out of hand.  To read more about guavas go here.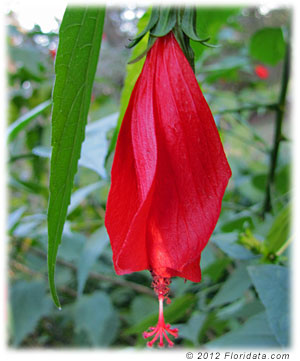 A common shrub that is blossoming heavily now is Malvaviscus penduliflorus. While it can blossom all year there are seasonal ebbs and flow. A couple of common names are Turk's Cap and Sleepy Hibiscus. The blossom never fully opens but the red parts are quite edible and often sweet. There is also usually a bug or two inside which you can either shoo out or consume. Extra protein. I have read a few internet posts that say the green portions of the plant — like the leaves — are edible but I have never found any credible reference to that. I also have not tried the leaves and do not intend to.  As a genus Hibiscus are not a dangerous group but I have no desire to be even mildly sick if I can avoid said. To read more about Hibiscus go here. 
Foraging Classes:
Sunday, Dec. 13, Mead Garden,1500 S. Denning Dr., Winter Park, FL 32789, 9 a.m.
Sunday, Dec. 20th, Dreher Park, 1200 Southern Blvd., West Palm Beach, 33405, 9 a.m.
Sunday, January 17th, 2016, Mead Garden,1500 S. Denning Dr., Winter Park, FL 32789, 9 a.m.
To learn more about the classes go here.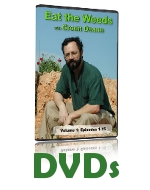 All of Green Deane's videos are available for free on You Tube. They do have ads on them so every time you watch a Green Deane video I get a quarter of one cent. Four views, one cent. Not exactly a large money-maker but it helps pays for the newsletter. If you want to see the videos without ads and some ins lightly better quality you can order the DVD set. It is nine DVDs with 15 videos on each. Many people want their own copy of the videos or they have a slow service and its easier to order then to watch them on-line. They make a good Christmas or birthday gift. Individual videos can also be ordered. You can order them by clicking on the button on the top right of this page or you can go here. 
Want to identify a plant? Perhaps you're looking for a foraging reference? You might have a UFO, an Unidentified Flowering Object, you want identified. On the Green Deane Forum we — including Green Deane and others from around the world — chat about foraging all year. And it's not just about warm-weather plants or just North American flora. Many nations share common weeds so there's a lot to talk about, such as the one to the left. There's also more than weeds. The reference section has information for foraging around the world. There are also articles on food preservation, and forgotten skills from making bows to fermenting food. Recent topics include: Dichotomous Key: This made me smile, Foraging "For Real," Spiky Fruits, Pine Cough Drops and Needles, Skullcap, Malodorous Plant? Another NJ Tree, Maypop? Roadside Plant, Unknown in Sudan, Please Help Identify, Preserving Prickly Pear Bounty. When I was Five Years Old, and Bearberry.  You can join the forum by clicking on the button on the upper right hand side of this page.
This is newsletter 186. 
To donate to the Green Deane Newsletter click here.